#1 Reason to List Your House for Sale, NOW!
If you are debating listing your house for sale this year, here is the #1 reason not to wait!
The National Association of REALTORS' (NAR) Chief Economist Lawrence Yun recently commented on the inventory:
"Last month's dip in closings was somewhat expected given that there was such a strong sales increase in March at 4.2 percent, and new and existing inventory is not keeping up with the fast pace homes are coming off the market.

Demand is easily outstripping supply in most of the country and it's stymieing many prospective buyers from finding a home to purchase".
The latest Existing Home Sales Report shows that there is currently a 4.2-month supply of homes for sale. This remains lower than the 6-month supply necessary for a normal market, and 4.6% lower than a year ago.
The chart below details the year-over-year inventory shortages experienced over the last 12 months: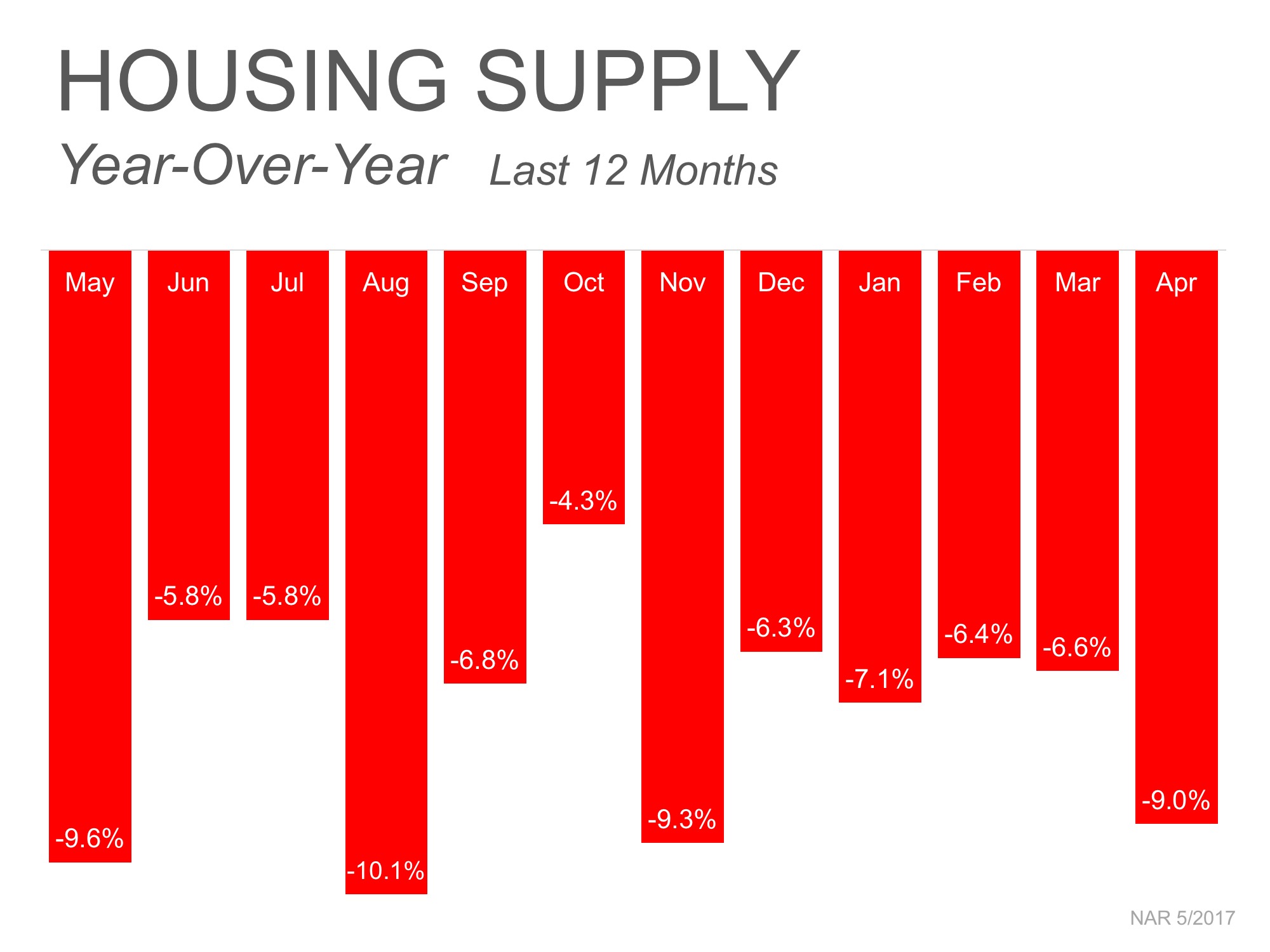 Anything less than a six-month supply is considered a "seller's market."
Bottom Line
Let's get together and discuss the supply conditions in your neighborhood to be able to assist you in gaining access to the buyers who are ready, willing and able to buy now!
//
---
Questions, Comments or For more information you can contact Christian Penner at: Call/Text: (561) 316-6800 or visit us online at www.ChristianPenner.com
The Christian Penner Mortgage Team, A Branch of 
American Financial Network, Inc
CORP NMLS# 237341 ; Equal Opportunity Employer ; Equal Opportunity Lender American Financial Network, Inc. 10 Pointe Drive, Suite 330, Brea, CA 92821.
---
Or You can click "Call Me" below to call Christian Penner directly using Google Voice
---
#ChristianPenner, #

MortgageBrokerWestPalmBeach

talks about #

RealEstateWestPalmBeach

. He also serves other Local Areas and provides home #

MortgageSolutionsforPalmBeachGardens

, #

Jupiter

, #

BocaRaton

, #

Wellington

and #

Tequesta

. #

ChristianPennerMortgageBrokerJupiter

has the #lowestmortgagerates and the best #homemortgage programs like; #Jumboloans, #

FHAHomeLoans

, #

VAHomeLoans

, #ReverseMortgageHomeLoans, #

FreddieMacHomeLoans

, #

FannieMaeHomeLoans

and #

HARPMortgageLoans

. #

ChristianPennerMortgageBrokerPalmBeach

Gardens

has Served the area for over 15 years with his #HomeLoanLending Needs and Works with #

TheChristianPennerMortgageTeam

.
#AskMeAboutAMortgage #PalmBeachMortgageLender #WestPalmBeachMortgageLender #PalmBeachGardensMortgageLender
You Can Also Find Him On
Facebook at:

https://web.facebook.com/YourMortgageBanker/
- - -
Christian Penner
712 U.S. Highway 1 North #300, North Palm Beach, FL 33408