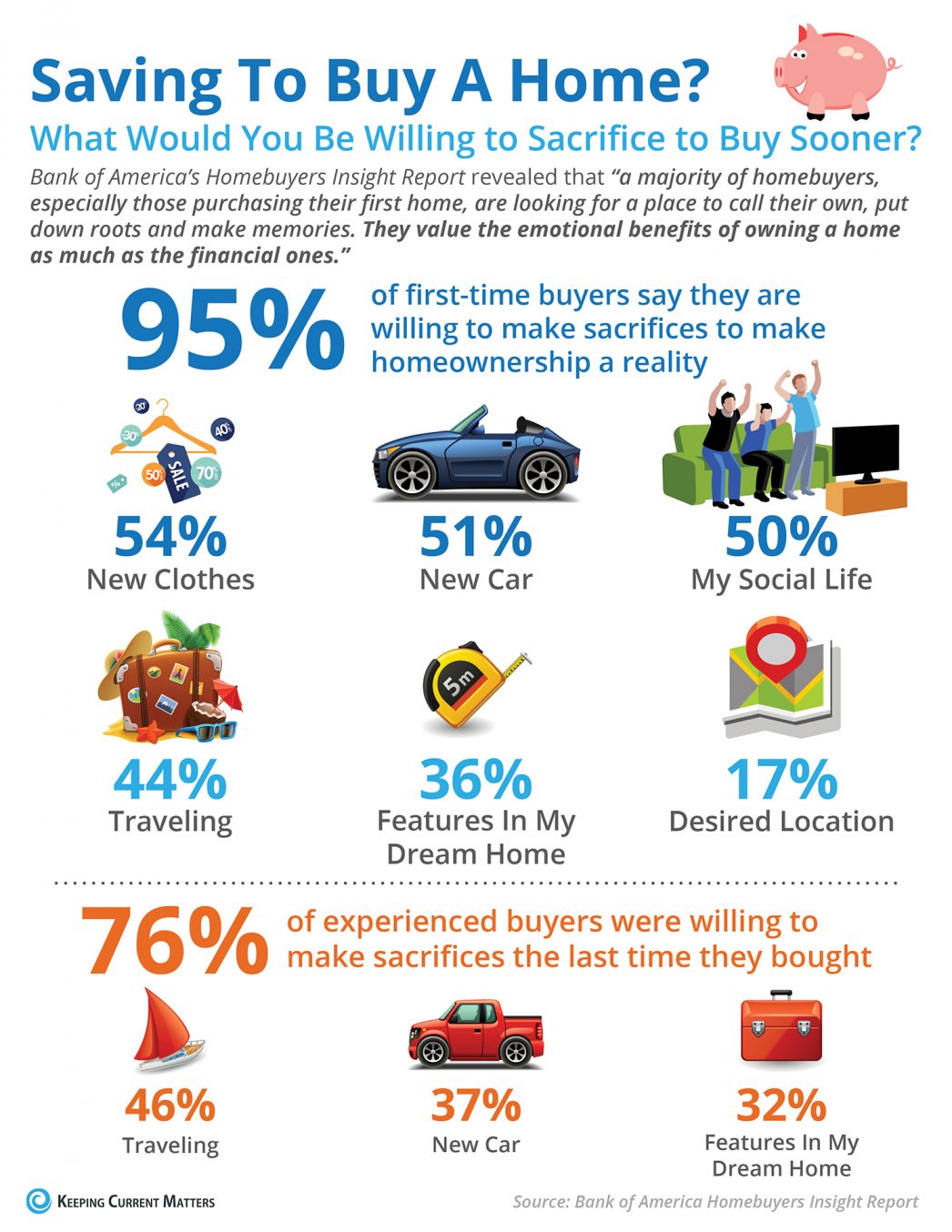 Some Highlights:
95% of first-time homebuyers are willing to sacrifice to make homeownership a reality.
The top item that buyers sacrifice is new clothes, at 54%.
Even repeat or experienced buyers say they sacrificed taking a vacation or buying a new car to buy their last home.
 Your home is probably the biggest asset you own. This is why you should hire a professional to guide you through all your real estate transactions. My goal is to help 24 to 28 families each year either buy or sell a home. I am NOT interested in Selling 100 or 200 homes a year because I would not be able to give each family the time, attention and energy they deserve. I would also lose touch with my past clients and would not be available to help where needed. I take pride in working personally and individually with each of my clients. Once you are my client, you will work me from the beginning to the end of the transaction. When you call, you will get me directly, not my assistant or secretary. I have been a financial and real estate consultant for the past 30 years and have specialized in loan loss mitigation, short sale negotiation and REO marketing since 2005. I know how to negotiate contracts and navigate through the most difficult transactions. I am a member of, and Certified by the National Association of Realtors as a Short Sale and Foreclosure Resource, and Broker Price Opinion Resource. I am a Member of, and Certified by the California Association of Realtors as a Certified Home Affordable Foreclosure Alternative Specialist. I am a Certified Distressed Property Expert, Certified Short Sale Negotiator, Certified Pre-Foreclosure Specialist and Certified Default Advocate. For more please go to my LinkedIn Profile. Thank You!! And I look forward to hearing from you!
Protect Homeowners Under Tax Reform
NAR President-elect Elizabeth Mendenhall met with congressional leaders to reinforce NAR's position that any tax reform should make sure homeowners don't end up paying more taxes than they do now. Mendenhall met with Senate Finance Committee Chair Orren Hatch (R-Utah), House Ways & Means Committee member Richard Neal (D-Mass.), the staff of House Majority Leader Kevin McCarthy (R-Calif.), and other lawmakers to ensure they know NAR's position on tax reform as well as reauthorization of federal flood insurance, which expires at the end of September. Details on her meetings and NAR's concerns with the Administration's tax reform outline are in the latest Voice for Real Estate video. 
Featured Segments
Tax reform
Your home is probably the biggest asset you own. This is why you should hire a professional to guide you through all your real estate transactions. My goal is to help 24 to 28 families each year either buy or sell a home. I am NOT interested in Selling 100 or 200 homes a year because I would not be able to give each family the time, attention and energy they deserve. I would also lose touch with my past clients and would not be available to help where needed. I take pride in working personally and individually with each of my clients. Once you are my client, you will work me from the beginning to the end of the transaction. When you call, you will get me directly, not my assistant or secretary. I have been a financial and real estate consultant for the past 30 years and have specialized in loan loss mitigation, short sale negotiation and REO marketing since 2005. I know how to negotiate contracts and navigate through the most difficult transactions. I am a member of, and Certified by the National Association of Realtors as a Short Sale and Foreclosure Resource, and Broker Price Opinion Resource. I am a Member of, and Certified by the California Association of Realtors as a Certified Home Affordable Foreclosure Alternative Specialist. I am a Certified Distressed Property Expert, Certified Short Sale Negotiator, Certified Pre-Foreclosure Specialist and Certified Default Advocate. For more please go to my LinkedIn Profile. Thank You!! And I look forward to hearing from you!
NAR advocacy
Selling homes with solar panels