Venice, CA Real Estate Market Trends are hard to fathom.
This is what I consider the last frontier where there is/was affordable beach properties. Now I need to qualify it with "properties near the beach". Well I suspect the days are numbered. So if you are considering having a property near or on the beach in the greater Los Angeles area, you might want to consider Venice, CA.
Now instead of me telling you why not check out the numbers....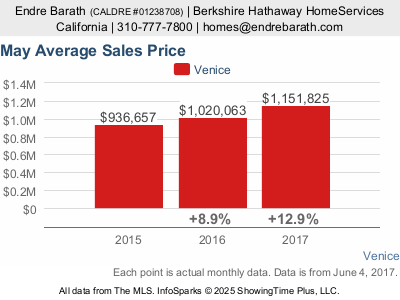 Now keeping in mind when I say "affordable" it is a relative term compared to Malibu, Santa Monica or Manhattan Beach to name a few beach communities. As I mentioned the days are numbered and as you can see the word is getting out and buyers are flocking to Venice, CA. Check out the days on Market: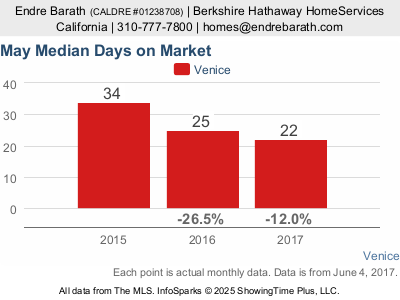 As you can see it is a seller's market in Venice, CA and when a property comes on the market it virtually is sold instantaneously. Funny part is if you look at the Days on Market three years ago, we were complaining that it was too fast. Well now it is virtually sold at the speed of light.
Now looking at the inventory, not surprisingly it is virtually non existant. Well see it for yourself... So getting back to my point, do not wait if you are considering living at or near the beach, but can not afford or want to pay Malibu, Santa Monica or Manhattan Beach Prices then take advantage of the opportunities in Venice, CA. On a side note this part of the city is in transition it is not the same Venice, CA you might remember 20 years ago.
If you are considering buying or selling a home, a luxury home, luxury investment real estate, luxury vacation homes, or luxury beach properties in Southern California, Los Angeles, Century City, Westwood, West Hollywood, Beverly Hills, Marina Del Rey, Venice or Malibu, feel free to contact me at 310.486.1002 (m) or homes@endrebarath.com or visit one of my websites at  http://www.endrebarath.com.  I am a Pet Friendly Realtor and I contribute a portion of my commission to local animal rescue organizations.