Sam Shueh
                                                        Realty One Group
                                                         Silicon Valley, CA
Experts estimate only 30% of American households use garage for automobile storage. Most Americans are hoarders.  In the East Coast most homes come with a garage and a basement. In west coast, there has not been homes come with a basement since after 1930s.  They tend to possess more vehicles as public transportation is not popular. Thanks to General Motors who tore all old light rails to make car ownership the only way to get around west coast. San Francisco city was contemplate its trolley removal until city decided there were more tourists wanting the service to be continued.
With the precious 250, 400 sf of space for 1 car or 2 car storage, it also serves as laundry, water heater, furnace, second refrigerator.  People like to buy in bulk quantity to save. Naturally it is a warehouse for the family. Bicycles, skateboards, surfing. It also serves as work shop or even family room for some. 
I am determined to use garage for automobile storage. Over the years, I keep very little stuff. I rent tools if needed. But I am the minority. Some families have room just for one car. Most park cars on driveway, street or anywhere you find room.  To keep the garage uncluttered I have stopping storing big bulk item like Christmas tree. Took mom's refrigerator into donation. We have a miniature Xmas tree. All bicycles, not needed items have been donated, gave away.   You heard of Amazon, right?  That is a great place to unload children toys, hot wheels. If I do not use them often I gave them away. 
A tool storage shed is also useful to store lawnmower, gardening tools and supplies. That unclutter the garage's precious storage space.  
I used to think garages must have to have shelves supported by brackets. Items are so exposed and the appearance is troublesome.  A better way is buy tall locker room shelves and have the closed behind the doors. Some come 6 ft tall. One can attach a number of these cabinets together to get organized.  A home will sell more if the garage is organized and floor is free of grease. A gray coat of enamel or ones with glittering stars will make the garage more appealing.
What does it take to get the garage above look more like the photo one below? Any thoughts? The owner is a premium member of Amazon and frequent users of Craigslist.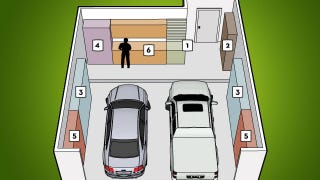 SOURCE:  
Synopsis on Mortgage Interest Rate vs Affordability (Silicon Valley affordability) 
Santa Clara and South San Francisco Bay Area Home Stats Q2 2016  
How is my Silicon Valley home worth? (Silicon Valley Home Values) 
Sam Shueh Real Estate Blogs 
Website - Sam Shueh Realtor    SamShuehRealtor at Gmail.com
                                                           (Four O Eight) 425-1601