As temperatures in Reno rise, so do interest rates and prices.  Unfortunately, inventory levels dropped yet again.  While great news for Sellers, it means Buyers have a tougher time finding Reno homes in a more affordable price range.  Read my June 2017 Reno Sparks Market Report below to learn more.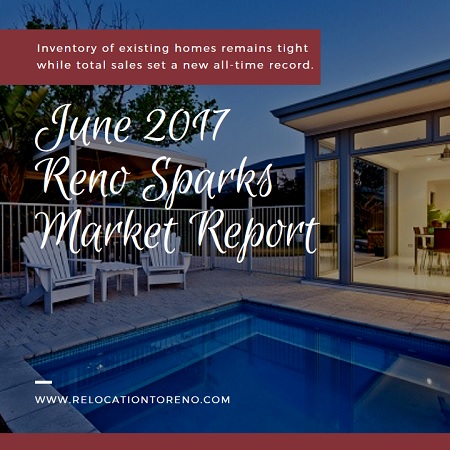 June 2017 Reno Sparks Market Report*
Total Reno Sparks Sales in June 2017

According to statistics released by the Reno Sparks Association of REALTORS@ (RSAR), a total of 736 existing homes were sold in the Reno-Sparks area in June 2017.  This marks the highest monthly sales ever in RSAR's history.  It handily beat the previous record of 679 back in January 2005.  It also marked an 8.4% increase from May's total units sold and 11.3% more than June 2016.
New Reno Sparks Listings and Inventory in June 2017
New listings in the Reno Sparks real estate market decreased to 808 total in June 2017.  While just 0.9% lower the previous month, they dropped 3.6% from the same time last year.  This marks the first downturn since the beginning of the 2017 calendar year.
Reno Sparks inventory also slid into even lower territory.  At 1.4 months available in June 2017, it dipped only slightly from the previous month.  However, it showed 41.7% less than the 2.3 months available in June 2016.
Median Reno Sparks Sale Price in June 2017
As might be expected when inventory is tight but demand is up, the median sale price for a Reno Sparks home rose 8.7%, from $312,800 in June 2016 to $340,000 in June 2017.  This was $5000 higher than May 2017's median price.  Suburban Southwest Reno (just under $680,000), Metro Southwest Reno ($470,000), West Suburban Reno (just under $420,000) and New Southeast Reno ($400,000) show the highest median sale prices.  Meanwhile, the North Valleys area (just under $265,000) and Sparks ($260,000) offer the lowest median sale prices.
What Reno Buyers Need to Know
Interest rates crept up.  As of June 4th, the FHA was at 5%.  A 30-year fixed conventional loan came in at 4.25% and a VA loan will cost 4%.  15-year fixed rate loans provide your best rates at 3.625%.  With inventory levels so low, you need to be more flexible when it comes to a repair allowance.  If the inspection reveals a few repairs might be needed, you may want to just consider repairing them yourselves.  If you try to renegotiate a price, the Seller may decide to move on to another one of what could be many Buyers waiting in the wings.
Buyers find themselves fighting for what's available.  Come in with a strong offer as your first offer.  Make sure you secure financing before you put in an offer.  When you see a Reno Sparks home you're inerested in, pounce on it right away.  You can't always wait until the weekend or it might be gone.  Contact your Reno REALTOR@ today to go over a working strategy to find you your next Reno home.
* Only statistics for existing, stick-built homes were used for the May 2017 Reno Sparks Market Report. Townhomes, condos and newly constructed homes were not included.
Charlene Hamilton, Your Reno Real Estate Specialist
Originally posted on my Reno real estate blog here: http://www.relocationtoreno.com/2017/07/10/june-2017-reno-sparks-market-report/.