Please, please, please, if you live around Edison NJ and are contempleting bringing a pet in your life, go visit the Edison animal shelter and save a life. See more pets at the Edison animal shelter.
DOLCE - Tuxedo Kitten!
Cat • Domestic Short Hair & Tuxedo • Baby • Male • Medium
Edison Municipal Animal Shelter Edison, NJ
MORE ABOUT 
DOLCE - TUXEDO KITTEN!
House trained • Spayed/Neutered • Current on vaccinations • Primary Color(s): Black • Secondary Color(s): White • Coat Length: Short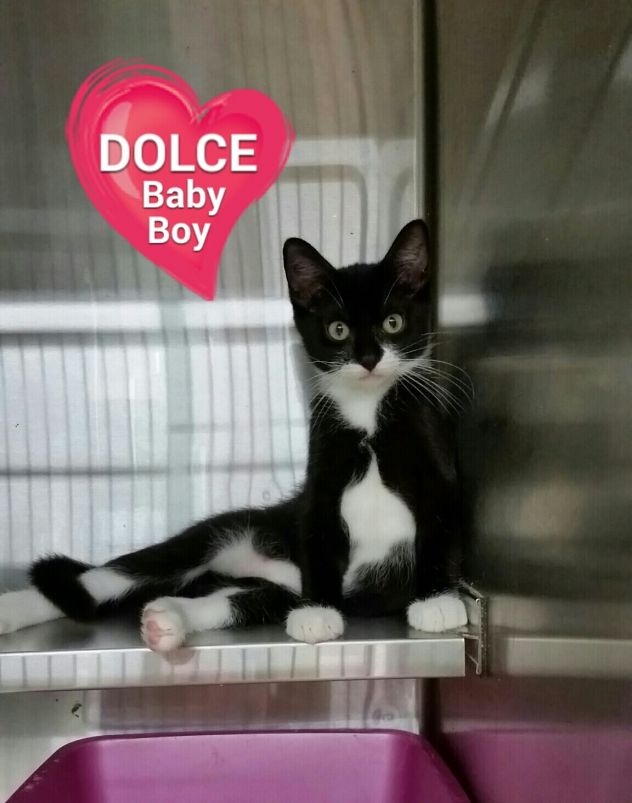 ABOUT DOLCE - TUXEDO KITTEN!
KITTENS, KITTENS, KITTENS! Come meet our kittens who just pranced out of our nursery and AVAILABLE FOR ADOPTION! 

Please do your research on kitten and cat care before you enquire. We know they are so cute, but start by asking yourself a couple of questions. Check out this website. 
http://www.peteducation.com/article.cfm?c=1+1838&aid=2925 

All of our shelter dogs and cats are spayed/neutered and up to date on their vaccinations prior to adoption. If you are interested in adopting a kitten or two, please visit us at the Edison Animal Shelter, 125 Municipal Blvd., Edison, NJ 08817. 

For our shelter updates, check out Friends of the Edison Animal Shelter facebook page at https://www.facebook.com/edisonanimalshelter 

Public Hours: We are open 7 days a week from 12pm-4pm.
Edison Animal Shelter
125 Municipal Boulevard, Edison, NJ 08817
Hours are Monday thru Friday 8:30 am to 4:30 pm, Wednesday nights until 7:30 pm, Saturday
10 a.m. - 1 p.m
(732) 248 7278
Helping Hands for Helpless Paws
1996 Route 27, Suite 6
Edison, NJ 08817
(732) 572-7637
Cattitude, Inc
A NJ non-profit animal rescue corporation
www.njcattitude.org
Highland Park, NJ
732.491.5696
Save Lives, Spay & Neuter 
Scarlet Paws Animal Welfare Network at Rutgers
The Scarlet Paws Animal Welfare Network is a non-profit organization dedicated to the promotion of the humane treatment of both domestic animals and wildlife found living on the New Brunswick Campuses.
- Coming Events (Rabies clinics, Spay/Neuter, Adoption...) in Edison, NJ sponsored by the Edison Shelter : Click here-