Back in October 2016, Reno Land Inc. unveiled their plans for their Reno Park Lane Revelopment project.  At the time, they weren't sure when ground would be broken.  They only had their vision for what could become of the old eyesore known as the Park Lane Mall.  It now appears that we could be seeing the official Reno Park Lane groundbreaking by the end of this summer.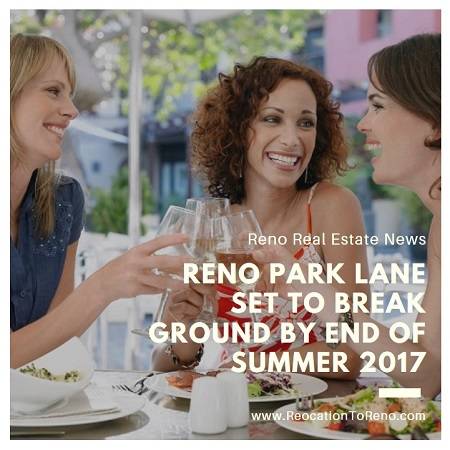 Reno Park Lane Prepares for Official Groundbreaking

Just a couple of weeks ago, several large pot holes in front of the theater were filled in after years of neglect.  This signaled to many the developer's preparation for official groundbreaking soon.  The only portions of the former Park Lane mall complex that will remain with the new Reno Park Lane property will be the Century Park Lane theater (with its adjacent parking lot), a bank and a pet clinic.  The same builder for Reno Park Lane is also in charge of the new Rancharrah development and the Summit Club Apartments, an affordable housing community (which broke ground in March 2017).
Reno Park Lane Master Plan
With 45 acres to work with, there's plenty of room to create something really special.  Over the next five years, Reno Land Inc. plans on unrolling a residential/commercial/retail mixed-use community unlike anything we've seen in Reno real estate before.  They expect to open up leasing for some of its commercial space and 750 apartment units by the end of 2017.  As each phase begins, more spaces will be available for lease.
First things first.  They need to demolish existing sidewalks, parking lots, lights, signs and any remaining foundation from the previous mall site.  Only the theater, bank and clinic remain untouched.  Then, they need to reconfigure the sewer system and storm drains to accommodate the new structures and usage planned for Reno Park Lane.  With the demolition permit already approved and the reconfiguration permit filed late last week, the developers expect to officially break ground between mid and late August 2017.
What Can Reno Expect to Gain?
First of all, the years-old eyesore that was the Park Lane Mall will be no more.  In its place, the Reno Park Lane complex provides more housing options as well as opportunities for entrepreneurs and established businesses to thrive.  Developers expect to generate as much as $63 million in tax revenue to the City's redevelopment agency.  With this money, the surrounding communities could see some improvements to their infrastructure.  It's a win-win for all of us.
Charlene Hamilton, Your Reno Real Estate Specialist
Originally posted on my Reno real estate blog here: http://www.relocationtoreno.com/2017/07/24/reno-park-lane-update-breaking-ground-soon/.