While high tech dominates much of the Reno jobs front, our retail sector continues adding new businesses.  In fact, a brand new health conscious supermarket store is set to open its doors on September 13th.  But they need people to staff it.  That's why Reno Sprouts Farmers Market will be holding two job fairs later this week.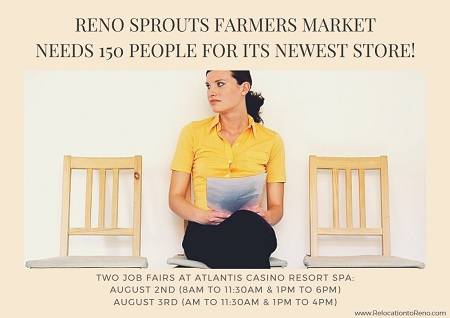 Reno Sprouts Farmers Market Job Fairs
The newest Reno Sprouts Farmers Market needs 150 people for several different positions within the company before it opens its doors next month.  The store's hiring team will be at the Atlantis Casino Resort and Spa from 8am to 11:30am and 1pm to 6pm on August 2nd interviewing potential employees.  They return on August 3rd from 8am to 11:30am and 1pm to 4pm.  They are looking to fill positions as cashiers as well as clerks in the bakery, deli, grocery, meat, produce and vitamin departments.  They're also looking for bulk clerks.
Reno Sprouts Farmers Market Benefits

The Reno Sprouts Farmers Market offers competitive pay, discounts for its team members and benefits to some of their employees.  They look within the company first when it comes time for advancement.  Sprouts also offers a scholarship program for its team members attending a secondary school.  Some employees may be eligible for health and dental, vacation, sick and holiday time off, life insurance and a 24/7 nurse line.  The Sprouts company believes in taking care of its employees so that its employees takes care of the company.
Sprouts Gives Back
As part of its business philosophy, Sprouts gives back to every one of the communities its 250 stores operate in.  Last year alone, they donated 18 million pounds of food to hunger relief agencies.  Over 12 million pounds of food was kept out of landfills through their composting efforts as well as animal feed given to area farms.  Then, they managed to raise $2.2 million for local non-profit organizations.  And that's just the beginning.
Tips for Your Reno Sprouts Farmers Market Job Fair Interview
Come dressed to impress.  Leave the jeans, shorts, T-shirts and flip-flops at home.  Bring several copies of your resume with you to present to the interviewer.  Make sure you are freshly showered with hair and teeth brushed.  This may seem obvious, but you'd be surprised how many people don't believe they need to make a good professional impression to land a retail job.  Believe me.  You'll stand out from many simply by looking like you're serious about the job.  Good luck!
Charlene Hamilton, Your Reno Real Estate Specialist
Originally posted on my Reno real estate blog here: http://www.relocationtoreno.com/2017/07/31/reno-sprouts-farmers-market-holding-two-job-fairs/.