It's not a secret- Google wants to be your destination for all-things-web.
Your local Multiple Listings Service wants to be the best (and official) source for home listings.
There are many online competitors who want to be both.
Mappable listings are wonderful- they help buyers see where the homes are.
Hovering around like an all seeing angel- buyers are able to view what's available and at what price.
It's the fly-over equivalent of driving the neighborhoods.
Many Real Estate Agents do not welcome this ease of use.
Is it any surprise?
Can the average real estate agent compete with Google's vast resources and technology geniuses?

Not directly. Of course we can try to

adopt

enabling technology- but we have several advantages.

You can't phone Google about the listing.
Google won't write the sales contract. 
They're not real estate agents.
I decided long ago that technology can not be stopped.
If someone offers superior service it is every business persons charge to rise to the occasion.
We may not compete directly with regard to technology but we can out-service them.
We can also take the ol' "if-you-can't-beat-them-join-them" approach.
Which brings us to Google's latest offering.
When you enter an address into google you might (depending on your location) see a new option.
Let's try a map search of Mesa Arizona
See that link to the right? ... it's the one that reads "Show Search Options"

When you click on the link something new appears... check out the drop-down menu.

There you are! ... well... whattaya say we give this real estate search a try?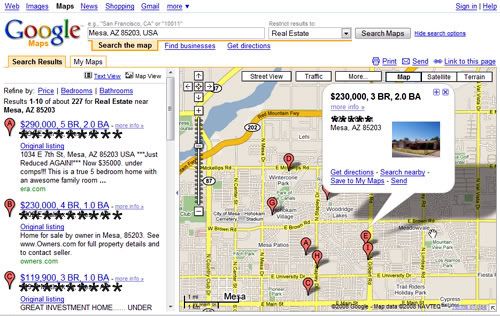 To the left you see an overview... it includes the typical necessary information.
Note: I've obscured the addresses out of respect for privacy.
To the right you'll see a map... you can zoom in or out and move the map around.
As you click on an alphabetized marker you'll see that listing's details.
Let me anticipate your questions:
Where do they get this information

? From a variety of sources, including users of GoogleBase.

Can I add my own listings?

Anyone who wishes...

GoogleBase Real Estate Help

.

Am I allowed to do this?

Check the rules with your MLS.
Epilogue

This isn't new. Google has been experimenting with this for a while.

Also... there are many map based solutions out there... this is just one more.

Finally- does it mean the end of the real estate agent?

No... not at all... it's just another resource.

------

Chuck Willman is a real estate agent based in the Phoenix Metro Area.
He can be found at www.AZvest.com.