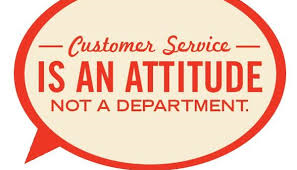 Being in the people business I pride my self on response and always being positive if at all possible. With this mindset, I look for it in my own personal experiences with services, I utilize.
For Instance: The difference it makes in a conversation over the phone with a person if they are upbeat in their voice, as it is contagious and makes whatever it is we are dealing with, a more pleasant experience.
- My Local Dunkin ( my day starter) has an order taker that is awesome in how he performs his position! You can feel it in his voice without seeing his face.
-My local Service Mechanic for my vehicles/ so accommodating and explains in detail the problems and projects promotes the feeling of a sincerity and not to just make an extra dollar on your auto.
-Even the simple task of getting gas/ the girl behind the counter has a great greeting to her customers when they come in. It definitely makes a difference in making a person's day, especially with the possibility of negativity that comes across our path on any given day!
-A small thing such as a Firm handshake from an individual to me says something about his or her character and sincerity.
-I, as a Realtor try to provide great service myself, always send thank you notes after meeting with new clients, referrals, and closings- it is a way to confirm that their business/friendship Is very important to me.
No matter how you look at it, Customer service is a very large part of our business interaction lives and we should all strive to make that experience the best we can!
Happy September!  www.kevinwgreen.com