My 5 Best Restaurants in Palos Heights
Dear Friends and Neighbors:
From fancy to fast food, many good options.
There is also a Polish Restaurant opening soon, and a few others , that Ill report back to you once they open.
The Summer is going out , and inching in is the beautiful fall season.  My window is open and the fall breeze is cool,  but  invigorating. The window is also open to my mind, and I sense this lovely time of year is about to begin.
Mem
ories are being scattered all around my cranium. Yum! I smell pumpkin spice
 I smell a crackling fire. The wood is oak  and pine. I can almost taste chili simmering on the front burner of my stove, and homemade bread baking in the oven. Guess what!? I am so hungry !
  .
Many people put the Capri Restaurant at the top of their list, and I can see why.
 The food is very good, and generous portions.  
Here's a  couple of reviews  from yelp,
" My family and I have been eating here for years. Consistently excellent food, great atmosphere, friendly and helpful staff. Best Eggplant Parmigiano ever! The fish specials are outstanding, too. You will also love the "Chicago Pour" on the wine. Make a point of going."

  Neil Houstma

 
"Had great service and great food last night. Enjoyed linguini with shrimp and broccoli. Delicious. Also enjoyed the leftovers today. Good portions at a reasonable price." Christine Murphy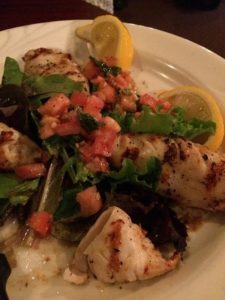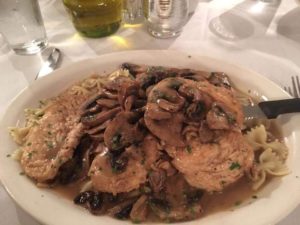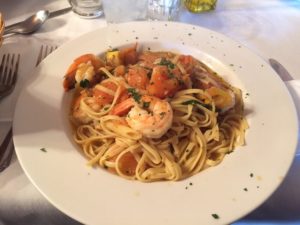 My favorite Breakfast place is

Lume's.

.
You can't beat it. It is very busy, but it doesn't seem crowded. The waitresses and waiters are 

as friendly as can be.
The food is fresh, appealing, and delicious!
The skillets are divine,

and they have pumpkin pancakes this time of year.
The most Unique Restaurant on my list  is the

" Harvest Room "

That is the place that gets an A for presentation. It is the place where you want to put your jewelry on and look a little finer. It is the place to go for a friend's birthday.
Their concept is simple: from the farm to the table. They specialize in cage free eggs and grass fed beef. That should win you over, but if you still need a little coaxing, try their bread pudding. Unbelievably decadent!! You just can't be good all the time!
    I can't have a list that doesn't include a pizzeria. my choice is

Jullianni's Pizza

.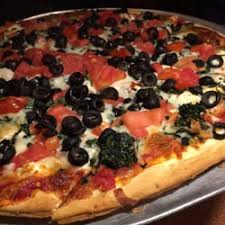 Sometimes it is just nice to get a pizza where you are waited on, and the pizza is fresh out of the oven. It includes cheese in a shaker, a side salad, and a draft beer, if you are so inclined.
This restaurant is roomy and the waitresses/waiters are friendly. They cater to families. Their pasta dishes are also very good.
    Jullianni's is family owned and operated. There are printable coupons on their website.
Last but not least, I just must have a Chinese restaurant, and that is
Hunan Inn.
They have an excellent buffet. I noticed that they put small amounts out and watch with eagle eyes to refill. The food stays  fresher and more appealing that way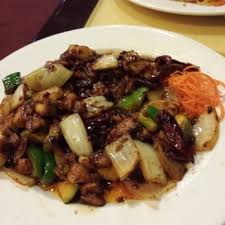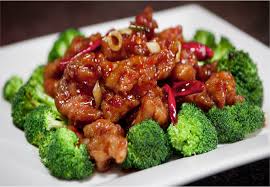 . There was quite a selection. The Mongolian beef practically melted in your mouth! Excellent Chinese cuisine!
  

 

There you have it.

These are my five favorite restaurants in Palos Heights: a  Italiano Ristorante Place, a Breakfast Place, a Unique, Organic Place, a Pizza Place, and a Chinese Place.
I need variety! However, I have yet to name my ultimate favorite of all. My favorite is 'ANYPLACE' as long as I am with family or friends. It can be ANYWHERE as long as I am filled with happiness. I can make a feast of bread and water if I am content and joyful. 
Having said that, If you are interested at looking at houses for sale in Palos Heights or if you have a home to sell, please check out my website , and give me a ring!
Call Brenda Kasprzyk  708.945.2178 . Lets get together,

 I will bring dessert!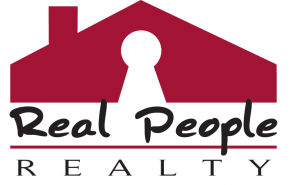 #1:CAPRI RISTORANTE ITALIANO
WHERE: 12307 S Harlem Ave.
WEBSITE:http://www.eatatcapri.com/
WHERE: 12401 S Harlem Avenue, Palos Heights, IL
#3: HARVEST ROOM RESTAURANT
WHERE: 7164 W 127th St., Palos Heights
WHERE: 7239 W College Drive, Palos Heights, IL
WHERE: 7222 W College Drive, Palos Heights, IL
If your looking for fast food I would recommend

" POPS"
 Their Italian beef sandwiches are never a disappointment.
They are thick, juicy, and pleasing to the eye. Your nose perks up as soon as the packaging is removed.
Their chicken chopped salads are so very good also, they also serve broasted chicken dinner.
   POP'S ITALIAN BEEF & SAUSAGE
 7153 W 127th St., Palos Heights, IL