The FSBO Assistant
Giving to Receive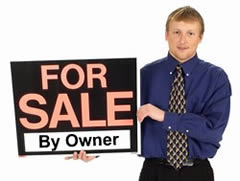 One nice thing about For Sale By Owner (FSBO) homes is that the owners advertise to the general public, which makes them easy to find! Most of these sellers will include their address in ads they put out, which means we can do some extremely targeted marketing.

Another important thing to know about these "do-it-yourself" types is that most of them fail in trying to sell their own homes, and end up needing the services of a Real Estate Agent. We just need to make sure we're the first agent on their mind!

To that end, I recommend giving the FSBOs in your area a small kit, or if you prefer, weekly mailings you can call the "FSBO Assistant." There is actually a two-fold reason to give out these kits. The first one is obvious: You have to give in order to receive. By presenting value up front, you are earning the trust of the homeowner, and making it much more likely that they will choose you should they decide to use an Agent.

The second reason is a bit more subtle: By introducing them to the piles of paperwork and material that FSBOs need to understand, you show them what you get paid for, and why it's worth it to use you rather than try to do it themselves!

What you might include:
sample of sales contract and disclosures

recent homes sales of the area

data on # days on the market

sign in sheets for open houses

staging tips

safety tips

your information on how you market and sell properties

anything else that is considered an item of value
Most importantly, include an offer to help them should they feel overwhelmed! This will give you more opportunities to sell them on your service later on. Be sincere in your desire to help them, and they'll be more receptive to you becoming their agent.
Another tip.... consider sending the items in a large legal envelope or even in a first class envelopoe! This will ensure that your communication is received!