Get Your Step Count Up With L.A. Secret Stairways
Once upon a time, Los Angeles. was a city connected by public transportation and governed by pedestrian traffic. During this time, stairways were the perfect way for pedestrians to have safe and direct access to transit lines. These staircases still stand as reminders of those days and as a perfect way to get your heart rate going and your step count up!
There are many sets found around Mt. Washington, El Sereno,  Highland Park and Santa Monica but I want to draw attention to a couple of favorites found in Echo Park  and Silver Lake .
Echo Park
There as many as 33 stairways in Echo Park, all with different levels of tidiness and difficulty but all provide a little window to the past and  some great views to motivate you in your journey.
Baxter Stairway | ~230 steps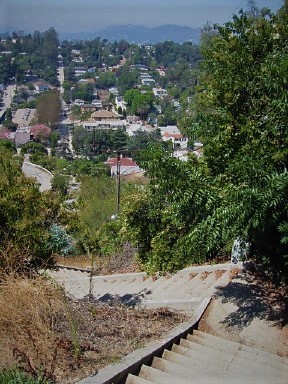 ...