Must-Have Kitchen Storage Solutions to Consider
The steps you take when thinking about important factors like storage space will make or break your home improvement project. Whether you're building a new kitchen in your home or renovating an existing one, you should consider everything from built-in power outlets to cookie tray slots to make the most of your space.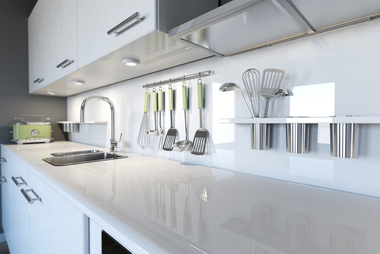 Here are eight must-have kitchen storage solutions to consider before a remodel to spend money wisely and optimize space effectively. 
An Accessible Lazy Susan – If your powders, spices and other essential ingredients have been piling up, plan for quick fixes, like lazy Susans, in your remodeling preparation, to make small items easy to find and put away.
A Range of Open Cabinets – If you're always reaching for and putting away dishes in a hurry, think about design trends, like open cabinets, in your remodeling goals, to have your favorite items out in the open when you need them.  
A Standard Pantry – If you have a big family and need adequate space to store non-perishable food, reinvent a typical closet space, like an everyday pantry, during your remodeling process, to have plenty of room for go-to foods like rice and pasta.  
A Pantry Pullout – If you're always on the go and looking for a pantry to match your busy lifestyle, add a handy addition, like a pantry pullout, to your remodeling wish list, to enable easy access to your favorite treats.
A Series of Closed Cabinets – If you want space to stow away food and cookware you don't use on a regular basis, jot down everyday kitchen essentials, like closed cabinets, to your notes for remodeling, to keep your basic necessities top of mind.   
A Super Cabinet – If you're looking for ways to use your cabinet space, make room for an efficient organizational space, like a super cabinet, on your list of remodeling tasks, to keep cans, boxes and more in order.
A Waste Disposal Drawer – If you're tired of having your trash and recycling out in the open, integrate a simple trick, like a drawer that fits your waste bins, into your remodeling scheme, to hide away messes and free up space. 
A Set of Drawer Dividers – If the drawers in your kitchen have become your household's version of Pandora's Box, incorporate small details, like additional drawer dividers, into your remodeling plan, to keep track of everyday essentials like utensils.
These eight must-have kitchen storage solutions to consider before a remodel are great ways to start planning your home improvement project. Whether you're building a whole new kitchen or revamping an old one, take into account the many ways you can maximize space and organize your belongings.