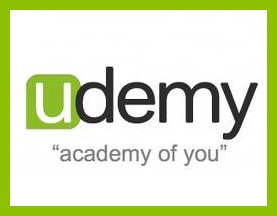 This article was originally published on the Home Value Leads blog.
We all want to get better at something. Especially as a real estate agent, there are just so many different hats you have to wear. It can seem nearly impossible to be stellar at any one task or skill. That's where learning online can be such a huge help. Besides the webinars that are offered through sites you may frequent often or the good ol' Google search, you can learn most anything on the website Udemy.
What is Udemy?
Udemy is an online learning marketplace. Millions of virtual students and instructors have come together for a learning community that covers every imaginable topic. The platform boasts about 55,000 courses in areas from personal development to online skills to marketing to more. Some of the coolest success stories from people who have used the online courses include first-time app developers whose games were bought by major companies, people who have transitioned from one career to another thanks to an increase in particular skills and just an international base of people who are growing every day and meeting new goals in their lives.
How Can Udemy Help Real Estate Agents?
A quick scroll through the list of topic areas to learn shows the plethora of learning opportunities for agents. Here are the some key areas that agents should definitely peruse.
Marketing: This is a no-brainer, right? Much of what an agent does is marketing. This is a particularly robust area of learning as it caters perfectly to different levels of marketers. Beginning marketing topics include "Modern PR", "SEO Training", "Facebook Ads" and more.
Photography: Many agents like you may want to take a stab at doing their own listing photography. ood for you! You can easily learn how to make your listing photos as professional as possible with the simple help of some Udemy instructors. Courses include general beginner courses on how to shoot properly and lighting all the way to specific types of cameras and how to operate them.
Office Productivity: We've covered this topic quite a bit on our blog, but now you can have video after video available on Udemy to supplement! You can learn how to be more productive on software like Microsoft Office, Quickbooks and iMovie, to name a few.
 Personal Development: Perhaps one of our personal faves on Udemy is the personal development section. Developing one's self is just as important to business as developing one's tactical skills. Look in particular at "Personal Brand Building", "Stress Management", "Productivity" and "Leadership".
Warning! This can become a pretty addictive site! Ever so often, Udemy will provide a special off their course prices. You may want to sign up just to get alerts (they can be as low as $10 each!).