Welcome to the ongoing series called Tuesday Travelogue. We are in our 139th week!
Each week, some ActiveRain bloggers are spotlighted to take us somewhere we may not have been on some kind of virtual travel (and it doesn't cost a dime!). Here is the purpose:
 to enjoy the ride"
"take a trip without even leaving the farm"
"expand your horizons"
"see through someone else's eyes"
  and hopefully much more!
In thinking of our neighbors who are hanging on in the Napa Valley area, I would like to focus on vineyards in that area, other wine country and think of happier times, as well...past, present and future.
I will start with one of our own, Chris Van Carter, who is facing this daily. Some positive news from the Napa Valley CA wine country.
 A recent photo from Patricia Feager shows some of the devastation and prayers sent Chris' way. Napa Valley burning. 
Yolanda Cordova-Gilbert offers some words of wisdom by persevering through these last two months. 
On a happier note, further down in CA is a small town that was made famous in the wine movie Sideways,  Los Olivos . Ron and Alexandra Seigel visited there recently and told us about it. 
This vineyard, Apolloni, in Oregon is one that I visited last week with friends. We've had our own bouts with fires, but not in the wine country in this area of Western Oregon, thankfully. Debb Janes has mentioned that she and her husband, Bernie Stea are focusing on buying Napa Valley wines to put dollars back into the pockets of those who've been so badly affected by the fires. Great idea!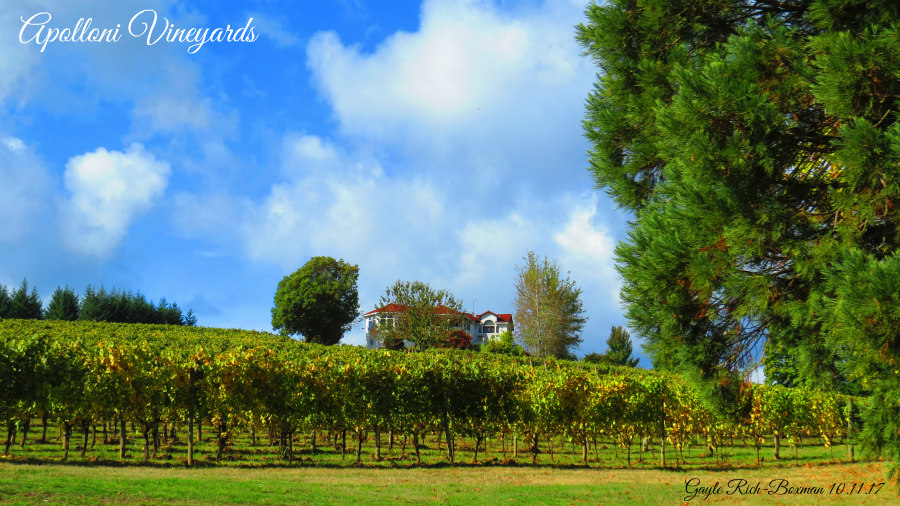 Please don't forget to comment on these blog posts and I hope that you enjoyed all of these virtual travels.