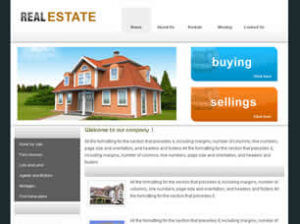 This article was originally published on the Home Value Leads blog.
Do you have a real estate niche that you have proudly built from the ground up? Then be the go-to real estate agent for your niche in your market and set up a website to match.
What is a Real Estate Niche?
Many real estate agents who have found success narrowed their focus down to a specific geographical area, property type or home buyer/seller type. Becoming an expert in a particular area of real estate means knowing the ins and outs from beginning to end of its respective transaction process. It can mean understanding the psychology and behaviors of a group. And it can also mean being attuned to the nuances of a community or market.
No one can become an expert in anything without having a solid amount of experience. That takes time, trial and error and lots of transactions. Some real estate agents can narrow down their focus from the start and work towards being the best. Others somehow fall into their niche after many years.
Launching Your Real Estate Niche
Once you've figured out what your niche is, look around your market. Are you the only one in your area? How big is the opportunity? Understanding where you stand amongst the competition helps you figure out how to launch your website.
For example, if there are several agents specializing in mid-century modern homes in your city, perhaps you focus on new builds. You could also focus on a specific geographical area. Basically, you can fine tune even what seems like the narrowest of niches to an even more specialized focus.
Getting Your Website Off the Ground
First things first: You need a domain name. Find one that is descriptive of what you are focused on. Let's use the example with mid-century modern homes. If you are the only one, then MidCenturyHomesSyracuse.com would be a good domain. If you have a more specific geographical area you cover, then instead of "Syracuse", insert the name of the area or neighborhood instead.
Next, choose a service that will help get your website off the ground. We won't go into great detail, but you can check out a past post we did on setting up a website.
Now, the content on your site is where you really make your site special. Every page should talk about your niche. On the homepage, mention the specific city and/or neighborhood you are in. On the about page, telling the story of how you came to be an expert in your specific demographic, area or type of property is helpful.
Bullet point out for your web visitors the benefits of working with you. Include a section of FAQs that many of your clients have wanted answered over the years.
The final piece to your website: your blog. This is an important way to keep your website fresh in the eyes of search engines and your audience. Try to update your blog at least semi-monthly. Topics to cover can include top concerns that your demographic niche often have, latest updates to the particular property type you are focused on or anything to do with your geographic farm. Of course, you will never run out of topics with new listings!