As is typical of this time of year, the October 2017 Reno-Sparks Market Report showed that sales tapered off from the hot summertime figures. However, they remain higher than last October's sales. Prices hit their highest mark in almost 12 years. And we don't see that slowing down anytime soon.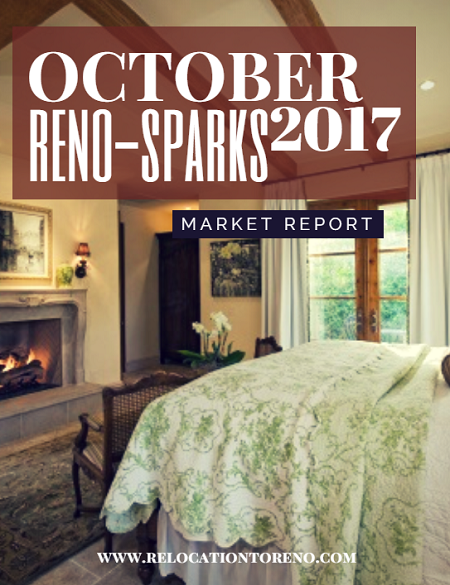 October 2017 Reno-Sparks Market Report
Reno-Sparks Home Sales - October 2017

According to the Reno-Sparks Association of REALTORS@, year-over-year sales increased 4.1% from 517 in October 2016 to 538 last month. However, this showed a 12.2% drop from September 2017's sales figures. Month-over-month total sales have been steadily declining since August. But that's typical for this time of year in the Reno-Sparks market.
Reno-Sparks Inventory - October 2017
Unlike sales, Reno-Sparks inventory dropped dramatically over the past year. In October 2016, there were 1560 listings on the market. However, just last month, this decreased 42.4% to just 899 active listings. That represents just 1.7 months of inventory available (44.6% less than October 2016).
Reno-Sparks Median Sale Price - October 2017
The median sale price for a Reno-Sparks home rose 12.4% from last October's $310,000. In fact, the $348,450 was the highest median sale price since January 2006. It also marked a 4% increase from September's $335,000 median.  The average price per square foot increased 9.6% from $178.92 last year to $196.15 last month.
Suburban Southwest Reno continues to provide the highest median sale price ($680,000). West Suburban Reno and Metro Southwest follow at $540,000 and $500,000, respectively. The Reno-Sparks areas showing the lowest median sale prices are Old Southeast Reno ($288,000), the North Valleys ($276,000) and Sparks ($270,000).
What Reno-Sparks Buyers Need to Know
New listings have been on a downhill slide since June. Unless we can get more inventory on the market, higher sale prices may just be the new norm for a while. The Reno housing market continues to strongly favor sellers. The most important thing buyers can do right now is to make sure their finances are in order before they put in an offer. Strong financial backing shows a seller how serious the buyer is, setting them above other offers. Contact your Reno REALTOR@ today to determine your strongest strategy in a Reno home search.
Briana Sullivan, Relocation to Reno, your Reno real estate specialists
Originally posted on my Reno real estate blog here: http://www.relocationtoreno.com/2017/11/20/october-2017-reno-sparks-market-report/.