#TimeToSell #ChrisBJohnsonRealtor #SellersPayZEROCommission #ListYourHomeandPayNoCommission
Your home is probably the biggest asset you own. This is why you should hire a professional to guide you through all your real estate transactions. My goal is to help 24 to 28 families each year either buy or sell a home. I am NOT interested in Selling 100 or 200 homes a year because I would not be able to give each family the time, attention and energy they deserve.
Weekly Mortgage Rate Update
The Fed increased rates at their most recent meeting. They also indicated they will likely raise rates three additional times in 2018. Please read on for more: First, who is the Fed and what do they do? The Federal Reserve Board (the Fed), controls the Fed Fund Rate and the Discount Rate. These are charges for overnight loans from bank to bank or from the Fed to member banks. What does an increase mean for regular people? • It could cause banks to increase their "prime rates," which are often used to calculate interest on consumer products like credit cards and home equity lines of credit (HELOCs). • Mortgage rates are long-term rates and not directly controlled by Fed rate changes. However, mortgage rates are influenced by Fed policy, and rates can rise in anticipation of future Fed action. There are exceptions, yet home loan rates will typically follow overall interest rate trends over time. Upcoming change in leadership at the Fed: In January 2018, the current Fed chair, Janet Yellen, will step aside for a new chair, Jerome Powell. Time will tell whether this transition will impact overall policy.
Central bank meetings were the focus this week. Investors viewed the U.S. Fed meeting as positive for mortgage rates, while the European Central Bank meeting provided no surprises and had little impact. However, stronger than expected retail sales data offset the reaction to the Fed, and mortgage rates ended the week with little change.

THIS WEEK'S RATE TREND IS 

FLAT


Home Prices Up 6.54% Across the Country! [INFOGRAPHIC]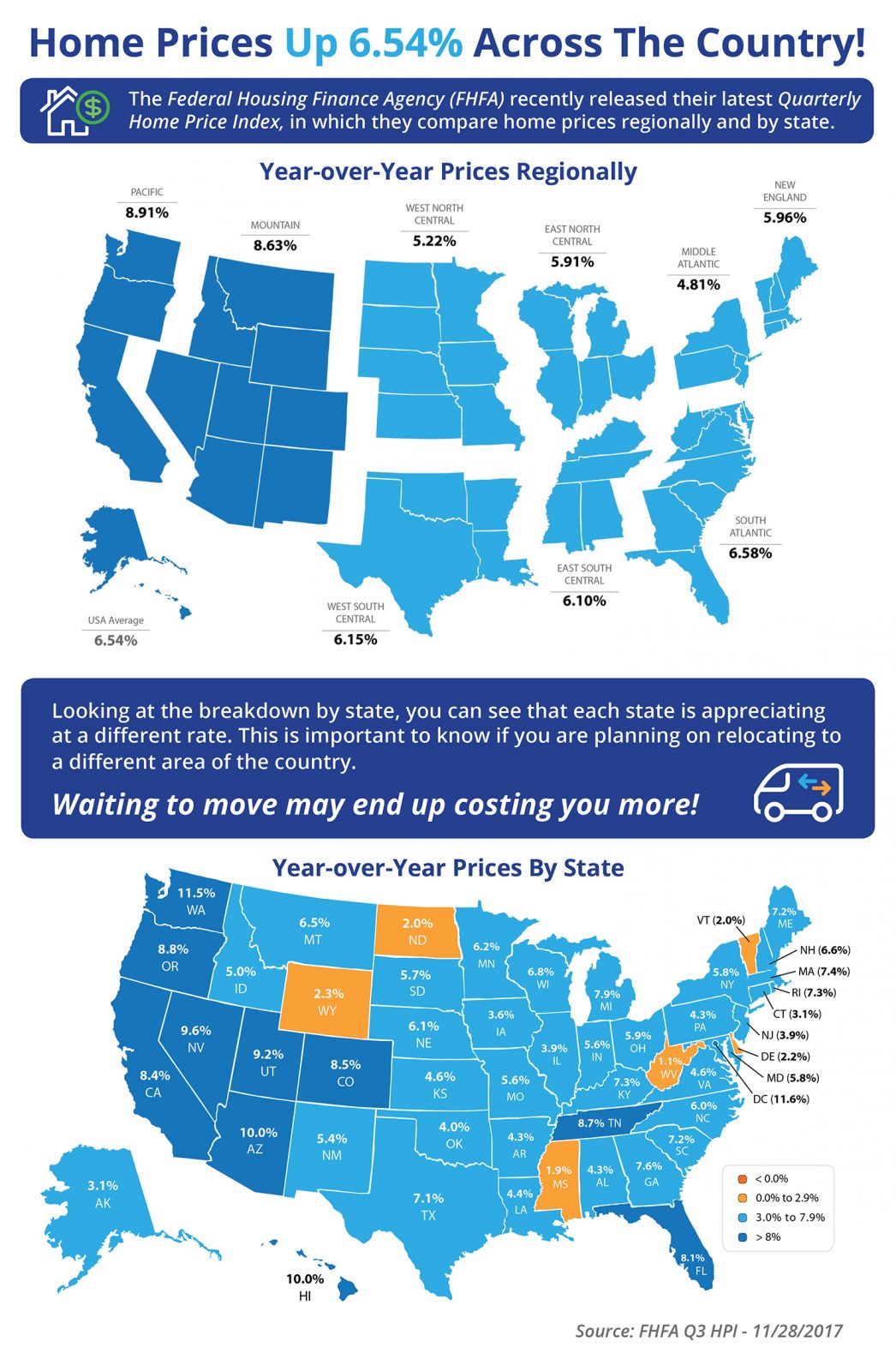 Some Highlights:
The Federal Housing Finance Agency (FHFA) recently released their latest Quarterly Home Price Index report.
In the report, home prices are compared both regionally and by state.
Based on the latest numbers, if you plan on relocating to another state, waiting to move may end up costing you more!