No doubt that the biggest real estate news of 2018 will be the new federal tax legislation. We can all agree that big changes are coming - particularly for certain segments of the market - including our North Shore.
Will 2018 be a good year to sell your house?
If you were planning to sell your home this year, then I would say go ahead. There is no known reason to hold out for something better - the last time we could do that was 2000-2007. There are many impending changes in 2018 which means a lot of uncertainty. New tax laws, higher interest rates, a shrinking Illinois population could boost buyer's and seller's anxiety.
Where are home prices headed?
Over the past three years, home prices have been flat (with the exception of Kenilworth that saw a rise in mid-2016.) This chart shows Winnetka (which includes Northfield), Kenilworth, Wilmette, and Glencoe: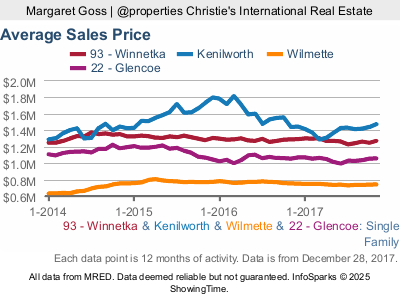 What about the new tax overhaul?
The bill will doubtless affect owners of high-end homes. There is now a $10,000 cap on property deductions and the drop in the mortgage interest rate deduction cap. This could drive prices down - good for buyers but not sellers. And luxury buyers in particular will be pinched by the lower $750,000 of indebtedness deduction.
The North Shore communities of Winnetka, Wilmette, Kenilworth, Glencoe, and Northfield all have a large luxury home segment. Homes in Winnetka priced over $1,875,000 sold in an average of 272 days (during the last 12 months) a number that had risen by 18.8% in the same time period. I expect to see those homes take longer to sell.
Will mortgage interest rates remain low?
It's been predicted over several years that they would rise and they haven't. Recently, over 100 experts were surveyed by Zillow and most predicted a slight rise in interest rates through 2018 to 4.5% from the current average rate of 3.9%.
Interest rates have baffled experts for years, - but even with the predicted rise, they would still be well below historical averages.
Are high Cook County property taxes driving people away?
Illinois' property taxes are the 2nd highest in the nation - about 2% of a home's value (New Jersey is #1.)  Here are the main reasons, from Illinois Policy:
"When it comes to property taxes, four main factors drive the pinch felt in Illinois pocketbooks: government-worker pensions, government-worker health care, prevailing-wage requirements and workers' compensation costs.
These four horsemen of fiscal doom are all multiplied by the sheer number of taxing bodies in Illinois – at nearly 7,000 – each with its own staffing and programming costs. No U.S. state comes close to Illinois on this number."
Illinois' property taxes are driving some people away - I have several clients who have discussed moving to Indiana or Wisconsin. According to the Chicago Tribune, the Chicago area leads U.S. in population loss - two years in a row.
But on the other hand, could most of those "escapees" be baby boomers looking to move to a warmer climate anyway? Another stat by the Chicago Tribune says that the numbers are distorted. In 2016, approximately 37,000 people left the state - out of a population of 12.8 million - less than ⅓ of 1%.
What about all the inventory we have sitting in Winnetka and the North Shore?
The truth is, we don't have as much excess inventory as we have had in the past two years.
Wilmette has an absorption rate now of 4.7 months, which is very much a seller's market.  
Kenilworth has experienced a huge drop in inventory from 15.8 months in June of 2016 to 7.3 months today. Glencoe has the longest wait at 8.3 months (a buyer's market)  and Winnetka has 6.7 months which indicates a balanced market.
Our market is not strong like California, Texas, or New York where inventory is very tight. There are very few instances of multiple offers here. But that may also be a by-product of North Shore sellers overpricing their homes to start. This can be shown by high average days on market - we tend to think of selling our homes in months rather than days or weeks.
Conclusion
It's no easy task to move - the process of putting your house on market all the way through to unpacking at your new residence is a burden not easily delegated. While sellers should consider market conditions as they are affected by national and local policy, it's most important that the desire or need to move is real.
I suggest taking the time to address your own personal moving agenda and discuss that with a real estate professional. We are in the best position to guide and provide you with all the best local statistics and recommendations. Whether you decide to wait a few years or plunge into the 2018 real estate market, you will possess the necessary information to make the right decision for you.
To CONTACT Margaret Goss, please call 847-977-6024 or email:  margaret.goss@bairdwarner.com
Margaret Goss is a full-time real estate agent since 1998 servicing the North Shore communities of Winnetka, Wilmette, Kenilworth, Glencoe, Northfield, Glenview, and Evanston.  See full BIO for Margaret Goss.