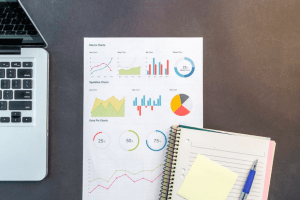 This article was originally published on the Home Value Leads blog.
Before your selling client makes a decision to list their house for sale with you, they need a few specific documents that you can provide. These documents help set expectations with your client of how much they can realistically sell their house for, help them understand the current local market and give them an idea of how you plan to market their home.
These documents can be pretty dry, though. Charts, graphs and lots of text can make these documents pretty boring. However, you can spice things up a bit and create beautiful listing documents to make this part of the process a little more colorful and less dull.
To start with, you can create a template for each of your listing documents. These can have your particular branding, including your logo, color scheme and a font that is more pleasing to the eye. These are just some basic elements that you can play with. A number of different template options abound, too, to help you create listing documents more easily.
What type of documents should you include? They may go by different names in different states, but you basically want to provide to your client a Comparative Market Analysis, Preliminary Title Report, Seller's Net Sheet, and Proposed Marketing Plan.
Comparative Market Analysis (CMA)
Since this document includes information about other homes in your client's neighborhood that are similar, the first thing you can do to jazz up this report is by adding actual photos of the comparable properties. You can simply pull these off the MLS or from a site like Zillow. In addition, you can highlight the price of each home in a specific color to draw more attention to them. Use nice, clear headings for each section (current homes for sale, pending sales and sold homes). Each section heading can be a different color. If you only have really one signature color to your real estate brand, then use variations of your signature color (i.e. the actual brand color then a lighter and also a darker version of it).
Preliminary Title Report (Prelim)
The Preliminary Title Report is a document that shows who the owners are, what taxes are owed on the property, what type of liens are recorded on your property, and any type of covenants or conditions recorded on your property. There may be other important information reported about your property. Basically, you need the Preliminary Title Report to know ahead of time, whether there is anything reported as negative or needing attention on your property before you begin the sales process.
Seller's Net Sheet
Since this is basically a spreadsheet of all of the expenses and money to be received upon sale of a home, this is really a list of items that can be broken down into two sections: Credits and Debits. We recommend to keep it less dry by creating a table then deleting the table lines. It makes for a more clean, modern look.

 

Again, you can use your particular brand's font, bold the headings and color code them. Even if you'd like to go simple, using a consistent font size that is larger than the rest of the copy, using basic black and using a good font will look more professional.

 

This is a great opportunity to include your logo as well. A banner at the top with your logo either centered or to the left or right on the banner adds more color and dimension to the document.
Proposed Marketing Plan
This is one document that you can truly make your own. Your marketing plan should include all activities that you will in engage in to sell your client's home. It's a great opportunity to demonstrate that you are on top of the task at hand and that your client is in good hands.

 

The marketing plan includes information on planned open houses, tours, advertising, social media, blog posts - pretty much anything that you will employ to make the listing a success. Again, you should include your branding on this document. In fact, using the same header with your logo as in other listing documents will tie everything together. Ensure that you include a heading for each type of marketing activity.

 

A quick summary will introduce each section beautifully. In addition, images of your website, images of the home and social media logos, among other things, are all great ways to add some dimension and interest to your marketing plan.