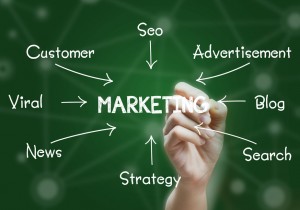 This article was originally published on the Home Value Leads blog.
Throughout the end, it's important to make sure that you maintain your marketing plan as a real estate agent. Even a week off track can keep you from generating more leads and seeing more listings or more home buying clients. Some areas where you should maintain your marketing plan: Your website, social media, traditional media, newsletters and online.
Website
Your website is often the very first place where a potential client will get to know you and your business. Updating this information often ensures many things. For one, it is great for search engine optimization (SEO) purposes. You do this by ensuring you have short-length and long-tail keywords throughout your site that match what your target audience is searching for online. This includes specific neighborhoods you serve, types of properties you list and any other specific, high traffic search term ideas you think will lead people to your site.
An easy way to attract more leads to your website is via your blog. In order to properly maintain your real estate blog, plan ahead and stick to your schedule. You can always revise your plan of topics as timely things happen. Use a spreadsheet or even just a simple list to include dates and topics for your blog throughout the year. You can even use it as a checklist to help you feel accomplished as you write them.
If you have a CRM like Wordpress to help make posting simple, then you should also be able to pre-schedule blog posts. This makes it super easy to write in bulk and pre-post articles so that you don't find yourself with a case of writer's block and a short deadline before your next post is due.
Social Media
You can also pre-plan your social media posts. Use this handy template to help you plan ahead. Social media posts for your real estate business should include the 80/20 rule of posts: 80 percent not about your business and 20 percent about. With this in mind, if you post, say once per day, then you should have four out of five workdays where you can have pre-planned content. The other day can be about a new listing or one you just sold.
As you think of posts, go ahead and pre-schedule them or use a scheduler like Hootsuite, which can help across all of your social media platforms. If you want fresher content, try pre-planning Sunday night and have all of your posts for the week ready to go.
Collateral
Again, create a schedule of postcards that you can send out preceding to and with the them of certain holidays, special seasonal mailers and other specific times when a mailer is appropriate. If you can have these pre-designed, then they'll be ready to print and mail when the time comes.
Be sure to audit your postcards prior to their being mailed and make sure you have your most current information. If you have anything extra and timely to include note that or go ahead and include it in the deisgn.
Update Business Directories
The Internet is fraught with different business directories. The more your name and your real estate business is out there where people are looking, the more credibility and brand recognition you'll have. Start with this list of directories:
Check to make sure you don't already have a listing and make sure it's up-to-date. If it's not, log in to your account or, if you can't, contact the directory's support team to make it happen. Don't forget local directories and ones that are attached online to local publications.