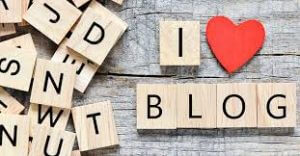 This article was originally published on the Home Value Leads blog.
It's no secret that blogging is a surefire way to attract people to your real estate website. Content is still a major factor when it comes to growing your online presence.
Why else would should you consider having a blog as part of your marketing strategy? For one, a blog post is an easy and natural way to update your site. Search engines love this and make sure that your site gets brownie points when it comes to page rank.
Of course, not just any content will do. The more relevant your content, the better, so pick topics you know real estate clients will love and use your keywords wisely. Another benefit of a blog is to show off your expertise as a real estate professional.
It's not enough to have the listings. People thirst for information when it comes to anything to do around one of the most important decisions and investments they will make in their lives.
Topics can revolve around the real estate process, preparing homes for sale and about the area you serve. With that, what are the best ways to enhance your blog's presence and effectiveness? Here are a few tips to make you a better content marketer and attract more leads.
Ensure You Have More than an Image
If you have the time and the tools, then you should definitely add a video or audio to your blog posts. We understand how time-intensive this can be, so video or audio every few posts should do the trick. Luckily, shiny, well produced videos don't get any more traction, sometimes, than regular homemade videos.
Using your smartphone can bring an authentic tone to your videos. For audio, a recording of an interview is a great way to include something more dynamic than a photo in your post. If you want to add some content, you can include a transcript of your video or audio file, giving your audience multiple ways to digest your post!
Post Multiple Times a Week
We know what you're thinking: When do I have time to post two or three times a week, let alone one?! You're not alone in this thinking. However, your best way to combat the fear of writer's block is to pre-plan your posts.
When the market is slower, it's the best time to come up with topics. You can create a simple spreadsheet with columns for dates, topics and notes. You also don't have to write all of your posts! You can simply enlist the help of experts in areas that complement your business whom your clients would love advice from. Home inspectors, mortgage lenders, decorators...anyone whom you come across in your everyday business can contribute something useful and even entertaining.
Rewrite, Republish and Refresh
Few people ever think to do this, but you should absolutely rewrite, republish and refresh past blog posts. The benefit in doing so is that you bring to light evergreen topics that are still relevant to your clients to the forefront while providing yourself additional content.
When you rewrite a post, just think of a different angle to talk about the same topic. You can also think of a different angle to refresh a topic. Another idea is to update a past post with fresh stats or news and republish the work.