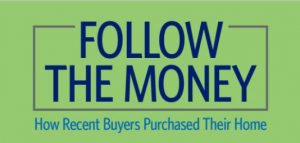 This article was originally published on the Home Value Leads blog.
The National Association of REALTORS® (NAR), recently shared their findings via infographic on "How Recent Buyers Purchased Their Homes." The report, based on a survey of home buyers from their 2017 Profile of Home Buyers and Sellers, revealed the ways they managed to make their purchases.
Home Buyer Purchase Background
It's important to note the backdrop for this research to get a better understanding of how the trends emerged. First, a severe drought in the housing supply kept many buyers out in the first place. Why? The less inventory of homes, the higher the selling prices. Then, take a look at the landscape of buyers: higher student debts, smaller down payments due to available cash and the number of first-time home buyers.
Forty-one percent of home buyers reported student debt, the average amount of which also increased from $26,000 in 2016 to $29,000 in 2017. This makes its difficult for prospective first-time home buyers to put aside funds for down payments, let alone pay off mortgages in the long run. Coupled with higher home prices, it makes for a dim outcome.
Smaller down payments, following such challenges as rising student debt, were also a major finding of the survey. Home buyers, if they did not have a listing from which to gain proceeds towards a down payment, had to resort to a variety of other means to contribute to down payments.
The number of first-time home buyers decreased due to all of these factors and others.
Home Buyer Purchase Trends
Here are the top trends that resulted from the June 2016 to 2017 period.
The median home purchase was $235,000.
88 percent of home buyers obtained a mortgage while 10 percent was the median down payment.
While the top two sources for down payments for all home buyers came from personal savings (59 percent) and proceeds from the sale of a previous home (38 percent), 16 percent received assistance from family and friends.
66 percent said that mortgage approval was not difficult or easier than they expected.
How to Use These Trends as an Agent
You can use this data to inform how you talk with and manage your relationship with home buyers, especially new ones.
First, you can provide as much information as you can on your blog to better inform your clients about long-term savings goals and to educate them on the mortgage lending process. This guidance can be invaluable to first-time home buyers as they prepare to make their first major purchases. You don't have to go at it alone, either. You can enlist the help of mortgage lenders and financial counselors you trust to write guest posts for your blog. Share their articles on social media and your newsletters.
Second, you can use the knowledge from this report to better understand what many of your home buying clients may be going through. Armed with this knowledge, you can have deeper conversations around and ask better questions about a client's situation to assess the best plan for finding their next home. This is where listening and digging with the right questions can be super helpful.
And, finally, be the resource that is the reason why agents are so beneficial to the home buying process. Many of the concerns that agents addressed for first-time home buyers especially were questions revolving around the mortgage lending process, highlighting property features and issues that they would not otherwise have noticed and negotiating better terms. Know your clients and be ready to hold their hand every step of the way.