Beverlywood, is a quiet development on the West Side of Los Angeles. If you look at the Map of Los Angeles it is located  between  Robertson Blvd on the east and Beverwil Drive on the West Beverlywood Street on the south, and Monte Mar Drive on the North.
Some people consider the Hillcrest Country Club as the most western border of the Beverlywood community. The reality is, you can see signs that proudly convey the community as you enter or leave it.
Population Demographics (FAQ)

The population of the community broken down by age group. The numbers at the top of each bar indicate the number of people in the age bracket below.

Total: 

29,206

Households: 

13,160

Median Age: 

38
Beverlywood was developed in 1940 by Walter H. Leimert who happened to also developedLeimert Park, but do not tell that to the residents. There are approximately 1,354 homes depending how many are torn down or are in the process of being built. This was the first neighborhoods in Los Angels that had a Home Owner's Association and to have a binding CC&R's. These regulations limit the style, color, design and yes even the home's size. In addition, there are restrictions on the landscaping and there is also an enforcement committee. Over the years I have noticed that the size of the homes have been getting quite large, so I was not surprised that the residents have started campaigning the Los Angeles City Council for size restrictions of homes.
Income by dollar range (Median Income: $78,209)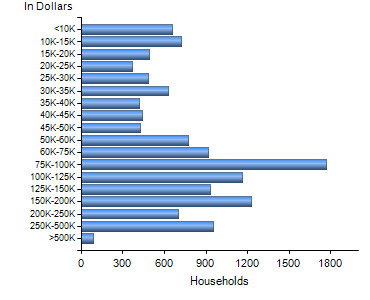 There are a handful of homes on the market and they range between $2.2 million to $3.8 million. There are a couple homes that are over $4 million and go as high as $4.4million.
If you are considering being close to Beverly Hills as well as Century City, but you want to have the feel of a quiet suburban community then Beverlywood is a great community for your to consider.
If you are looking for a focused and goal oriented Realtor in the Beverly Hills area who will help you achieve your Real Estate goals, please reach out to me directly!
If you are looking for a pet friendly Beverly Hills Realtor who can handle and sell the most difficult properties that no one else could, please reach out to me directly!! If you are considering buying or selling a home, a luxury home, luxury investment real estate, luxury vacation homes, or luxury beach properties in Southern California, Los Angeles, Century City, Westwood, West Hollywood, Beverly Hills, Marina Del Rey, Venice or Malibu, feel free to contact me at 310.486.1002 (m) or homes@endrebarath.com or visit one of my websites at http://www.endrebarath.com.  I contribute a portion of my commission to local animal rescue organizations.