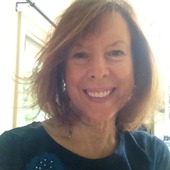 Lynn B. Friedman is hosting the "2018 Blog Jumpstart Challenge - Fun Leading to Future Benefits for You!" challenge this month.  One of the requirements for the MAXI Challenge is to "Profile an AR Member" .  I gave a lot of thought about who to call, and decided to call Ginny Gorman.
I first met Ginny at an ActiveRain MeetUp at Dagny Eason's home in August 2012.  Ginny drove all the way from North Kingstown, RI to Wilton, CT to be with us at the MeetUp.  It was an instant connection with Ginny when we met, and I have stayed in touch with her by commenting on her blog ever since.
I have had the pleasure of being a guest blogger on Ginny's personal business blog several times, and I am always honored when Ginny requests one of my blogs that she feels worthy of sharing with her clients.
Ginny has specialized in RI waterfront properties for over 11 years.  Anyone who follows Ginny know that she is very knowledgeable of the whole RI coastline, and is a tremendous asset to any Buyer or Seller.
Before starting her career in Real Estate in 2006 she was employed by RBS Citizen's Bank in their Compliance Department.  Compliance has become a huge part of the Lending Industry, especially since the Dodd/Frank Act, and the enactment of the Consumer Financial Protection Bureau (CFPB).
I did not have a lot of time to talk to Ginny today because she had to run out to a meeting, but each conversation I have had with Ginny, whether it long, short, or face-to-face it has always been a pleasure.  If you have not met Ginny I would encourage you to check out her blog, and begin to follow her.
******************************************************************************
 Info about the author:
George Souto NMLS# 65149 is a Loan Originator who can assist you with all your #FHA, #CHFA, and #Conventional #mortgage needs in Connecticut. George resides in Middlesex County which includes #Middletown, #Middlefield, #Durham, #Cromwell, #Portland, #Higganum, #Haddam, #East Haddam,# Chester, #Deep River, and #Essex. George can be contacted at (860) 573-1308 or souto@snet.net