Seldom do I write Market Trend Reports, only when I see a great deal of bad information out there shared by many portals... I have noticed that one source stated how bad December and how bad January was in Los Angeles. Then a contradictory report said how there were sales increases etc.
Hence I thought it was time to look at actual numbers. Now keep in mind I have said this often, that the Real Estate Market in the greater Los Angeles is very similar to Wineries in Napa or Sonoma, within close proximity there are over a hundred different Wineries and the quality and price points could vary based on the micro climates and the producers. Well it is very similar to Real Estate in Los Angeles we have the West Side, Santa Monica, Bel Air, Brentwood, Pacific Palisades and I could go on and on.
Therefore people who have an agenda to either make the local market look good or bad manage to not include either all property types or locations to come up with their statistics.
Hence when you hear generalizations such as the Los Angeles Real Estate market be alarmed. Same caution applies to Beverly Hills. There are many different markets in Beverly Hills as well. Such as the Ultra Luxury Market, the Luxury Market, the fixer market and the list goes on and on.
If you really want to know the statistics please reach out to a local Realtor to give you the real data. I am going to share a few statistics here and keep it in mind these are just general trends. If you really want to know what the market is like the questions should be more focused: the Fixer Market in Beverly Hills, The Single Family  Homes in Beverly Hills, the Luxury Condominiums in Beverly Hills anyway you get the idea. So with that said let's look at the Trends and if you have any questions please reach out to me directly for clarifications.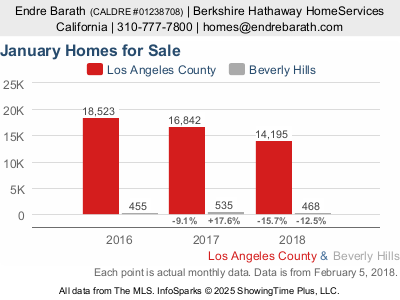 These are the actual homes that were on the market in January over the past three years. These were the actual closed transactions. Now if you looked at the above statistics you would think WOW what is going on in Beverly Hills? Well as I stated the numbers are skewed. This is based on all types of sales, Condominiums, Single Family Residences, and the list goes on and on. If you looked closer, it could be more condominiums sold and more fixer properties came on the market. Hence  as I stated before reach out to a local Realtor to get accurate information.
If you are looking for a focused and goal oriented Realtor in the Beverly Hills area who will help you achieve your Real Estate goals, please reach out to me directly!
If you are looking for a pet friendly Beverly Hills Realtor who can handle and sell the most difficult properties that no one else could, please reach out to me directly!! If you are considering buying or selling a home, a luxury home, luxury investment real estate, luxury vacation homes, or luxury beach properties in Southern California, Los Angeles, Century City, Westwood, West Hollywood, Beverly Hills, Marina Del Rey, Venice or Malibu, feel free to contact me at 310.486.1002 (m) or homes@endrebarath.com or visit one of my websites at http://www.endrebarath.com.  I contribute a portion of my commission to local animal rescue organizations.