Tomorrow is Valentine's Day...  love is in the air in anticipation of the day. Valentine's Day is also a good day to take note of the five reasons you should love using a real estate professional if you're buying or selling a home.
And whether you're buying or selling a home or doing both, the love for your real estate agent can continue well past Valentine's Day, as using a real estate professional could well be the best decision you make when selling or buying a home.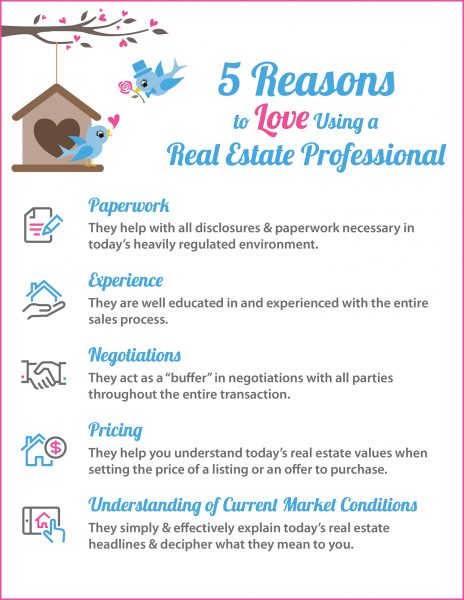 Want more reasons to love using a real estate profession on Valentine's Day? Here are 5  more reasons to love using a real estate professional:

Helping You Understand The Process
Whether it is your first time purchasing or selling a home, or whether you're an experienced buyer/seller, there are hundreds of actions that happen during every successful real estate transaction. Someone to guide you through the process, who can explain what is going on at every step of the way can very helpful in ways you can't anticipate.
Pointing Out Unnoticed Features/Faults with the Property
When you start the process of buying a home, you may be too excited to see each potential home for what it is, good and bad. An experienced agent can help you understand the potential hidden gems or risks before you make an offer. And if you're a seller, an experienced agent can help you understand aspects of your home that may hinder the sale and what can be done to position the home in a more positive light.
Improving Your Knowledge of Neighborhoods
Whether you're moving to a new state, or just across town, having someone who knows the neighborhoods in which you are looking can be an invaluable asset.
Providing a List of Top Service Providers
An experienced agent has relationships with mortgage professionals, home inspectors, appraisers, contractors, movers, and other experts you'll need whether you are buying or selling a home. Their contacts can make the process of buying, selling and moving in and out of a home much smoother.

Maximizing Exposure for Your Home
You want your home to get the maximum exposure to the greatest number of potential buyers. An experienced listing agent can market and expose your home to a degree that no individual seller can achieve. And with 90+% of home buyers beginning their search on the internet, it's critical to have your home show up where the buyers are looking. It's also worth mentioning that in a for-sale-by-owner, buyer's agents know there won't be a professional on the other end of the transaction, which can mean numerous headaches. Even if a client insists on seeing your home, their agent might discourage making an offer, citing the hassles and risks of trying to close the deal without a professional representing the seller.
This information is brought to you courtesy of Nina Hollander and Carolinas Realty Partners, RE/MAX Executive, your Charlotte metro area residential real estate experts.
If you are considering selling or purchasing a home in the Charlotte metro area, I'd love an opportunity to earn your business, exceed your expectations, and to prove to you that:
 "The Right Broker Makes All The Difference."
            SEARCH ALL CHARLOTTE METRO AREA HOMES
  FIND OUT WHAT YOUR CHARLOTTE AREA HOME IS WORTH