Venice, CA  90291 has always had a Bohemian spirit and feel to it...when we relocated to Los Angeles, CA., Diane did not like the "feel" too many tourists, muscle beach weird people and the list goes on and on. Venice, CA was one of the most under priced beach towns, because of all those points Diane did not care for.
Clearly I loved the idea of investing into a community that I saw would have an upside to it. Now with that said over the past seven years Venice, CA has become the last frontier for the entertainment industry and yes you guessed it the prices and the demand have skyrocketed.
Today thanks to all the Internet Startup Companies and the demand it is now part of the coveted "Sylicon Beach" which simply translates to that the Bohemian Spirit is being pushed out as well as Gentrification is taking place at lightening speed.
So with that said let's just look at the last three years and watch for the trends: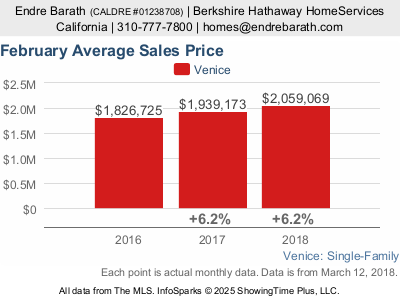 As you can see the prices are heading UP and just to compare to Marina Del Rey, CA  and Santa Monica, CA the price points are still more reasonable hence the only place they will go is up if the current trend continues!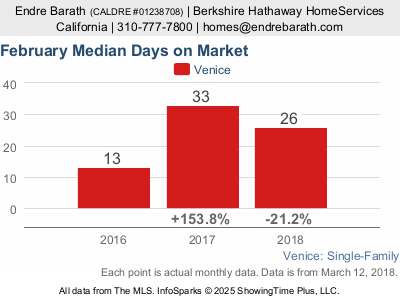 Now that the prices have increased you would think the market would change. As you can see it is still a fast market. Hard to fathom under 30 days for sales in these price points. Clearly you understand it is the Internet Money that has pushed the price points so high. Most of the Internet Money has a Bohemian Spirit, hence the desirability factor remains high.
As you can see when the prices are high there is an easy checks and ballances, to see if the numbers are not skewed! Check out the  Price Per Square Foot  and that will confirm the answer.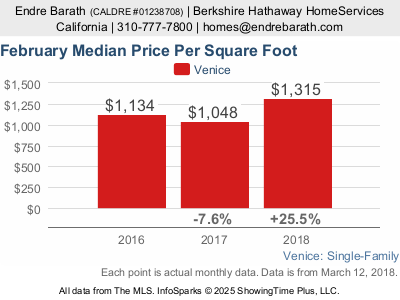 Now with that said if you are looking for a Realtor who understands your needs, please reach out to me directly for a confidential consultation.
If you are looking for a pet friendly Beverly Hills Realtor who can handle and sell the most difficult properties that no one else could, please reach out to me directly!! If you are considering buying or selling a home, a luxury home, luxury investment real estate, luxury vacation homes, or luxury beach properties in Southern California, Los Angeles, Century City, Westwood, West Hollywood, Beverly Hills, Marina Del Rey, Venice or Malibu, feel free to contact me at 310.486.1002 (m) or homes@endrebarath.com or visit one of my websites at http://www.endrebarath.com.  I contribute a portion of my commission to local animal rescue organizations.