The Venice, CA , 90291 & 90294: Real Estate Market Trends Report... Yesterday I wrote about the Marina Del Rey, CA Market Trends Report. I would be remiss if I did not write about the neighboring Venice, CA Real Estate Market Trends Report.
Keep in mind both are becoming very convoluted...there was a time when Venice, CA was very bohemian and as the demand for ocean view properties gets more demanding and the Silicon Beach buyers are pushing out or should I say gentrifying the bohemian Venice residents the prices are climbing as well as demand. Now with that said let's look at what is going on in Venice, CA.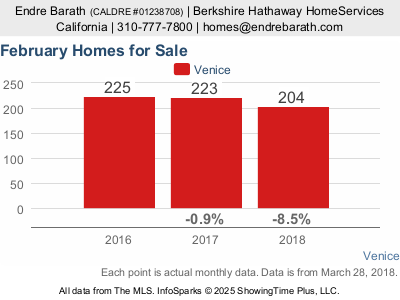 As you can see inventory is not increasing rather it is continuing to shrink. This of course is a clear indication of a Seller's Market.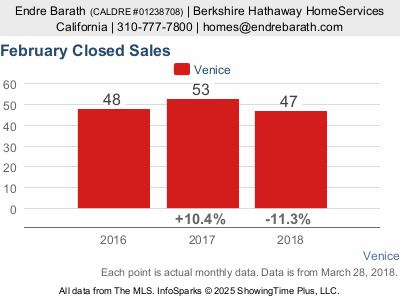 Not surprised when inventory is thight as some people call it "Thinventory" that sales would shrink as well. The two are totally connected.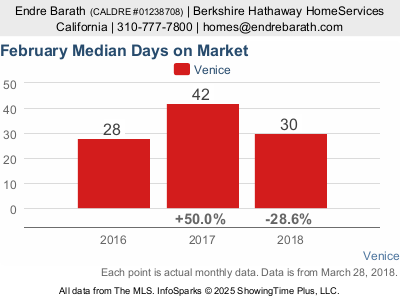 As you can immagine tight inventory fewer sales translates to a Seller's Market. So with that said if you look at the days on market you will concur that it is a sellers market.
If you are considering selling your home or income property please reach out to me directly for a most beneficial market strategy.
If you are looking for a pet friendly Beverly Hills Realtor who can handle and sell the most difficult properties that no one else could, please reach out to me directly!! If you are considering buying or selling a home, a luxury home, luxury investment real estate, luxury vacation homes, or luxury beach properties in Southern California, Los Angeles, Century City, Westwood, West Hollywood, Beverly Hills, Marina Del Rey, Venice or Malibu, feel free to contact me at 310.486.1002 (m) or homes@endrebarath.com or visit one of my websites at http://www.endrebarath.com.  I contribute a portion of my commission to local animal rescue organizations.