Northeast Seattle real estate prices up 18.5% (YOY)


Real estate market data for Seattle's 98125 zip code provided by Adrian Willanger of Kelly Right Real Estate of Seattle.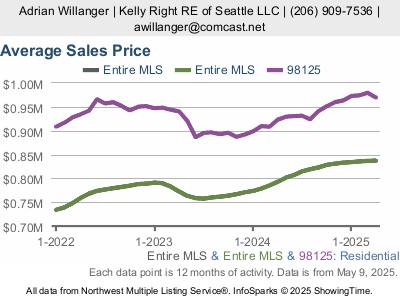 Northeast Seattle Home Prices
We have seen the average selling price of homes in Northeast Seattle rising for six consecutive months.  And I don't expect things to slow down anytime soon.  If you're thinking about buying don't wait on the sidelines for too long because I don't think this trend is going to slow down for awhile.  Many of our listings are starting to sell within a few days of hitting the market. 

If you are interested in what's for sale in Victory Heights, Pinehurst, Olympic Hills and Cedar Park neighborhoods you can find that by clicking on the link.  Currently, in these neighborhoods, the home has an average market-time of 7 days before they receive an offer. This would suggest that buyers need to be primed and ready to make an aggressive offer on a home. With record inventory levels many of the listings that come on the market are getting multiple offers within days of being listed.  
Redmond Real Estate Report Summary

The average selling price for single-family homes in Northeast Seattle is $708,572.  The average sales price increased 0.96% from February. 
The price per square foot for listings in this area is $373.
Seller's are getting an average of 104.7% of above their asking price. 
Find Homes for Sale in Northeast Seattle



Visit my website to search for homes in the Victory Heights, Pinehurst, Olympic Hills and Cedar Park neighborhoods or to be notified when a new listing comes on the market.
To find out what your home is worth in the current market email me or call 206 909-7536.