Have you thought about living in Scottsdale Arizona with blue skies all year round, golf, great Arizona scenery and roads to tour on, variety from deserts to pine trees, lakes and even skiing. Scottsdale is know for being a "foodie" city with great restaurants and also art galleries, shopping and  has been picked in independent studies as on one of the best places to live and raise in the United States.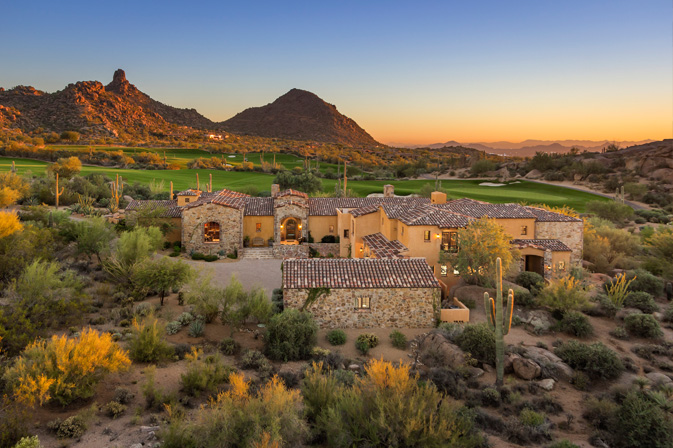 Golf course home in Scottsdale near Pinnacle Peak
Scottsdale has awesome sunny weather year round.  A perfect hub to explore the great desert southwest. A resort atmosphere awaits with resort hotels, golf, family living, parks, shopping and more. 
Scottsdale has it all and a wonderful place to call home. The open spaces and warm temperaturs beckon. Did I mention, no snow? Scottsdale has recently been voted as one of the top cities in the US for "Foodies", "Best Places to Raise a Family", and "Safest Cities".
Ten reasons to move to Scottsdale:
1. Beautiful weather! No snow.
2. Shopping/ Art Galleries
3. Parks and Biking/Hiking trail systems
4. Resort hotels
5. Dining
6. Schools
7. Proximity to Phoenx sports teams and ASU in Tempe
8. Western and Urban life mixed
9. Goff courses galore!
10.Explore the great desert southwest
Jeffrey Masich discusses living and buying home in Scottsdale Arizona and the Phoenix metro area
Scottsdale is the "West's Most Western City"

Located in the beautiful Sonoran Desert, Scottsdale, Arizona is bordered by Phoenix to the west and the McDowell Mountains on the east. 

Per the city of Scottsdale: Scottsdale is annually rated among the nations most desirable communities to live in, visit and do business in. Check out the latest rankings from various sources on Google. Business Week ranked Scottsdale as the 4th Best City in US to live in.
Scottsdale's vibrant downtown (Old Town) is considered the finest urban center in Arizona. It is home to more than 90 restaurants, 320 retail shops and more than 80 art galleries. Scottsdale's McDowell Sonoran Preserve, in the city"s northern reaches, is the largest urban wilderness area in the United States and features more than 60 miles of trails through diverse and scenic desert terrain. 


Scottsdale Facts
County: Maricopa
Incorporated: 1951
Slogan: "The West's Most Western Town"
Official Food: Chili, by 1994 Mayoral proclamation
Population: 240,000 (Sixth largest city in Arizona)
Size: 184.2 square miles, stretching 31 miles from North to South
 
Buy a home in Scottsdale
To learn more about Scottsdale living and to see homes for sale: Scottsdale and Homes For Sale or Arizona Homes For Sale. 
Here is a FREE MLS Search for homes for sale in Arizona. I, Jeff Masich would be pleased to help you find Arizona Homes For Sale and the right home at the right price!
                                        Press FREE MLS Search for search for homes for sale in Arizona