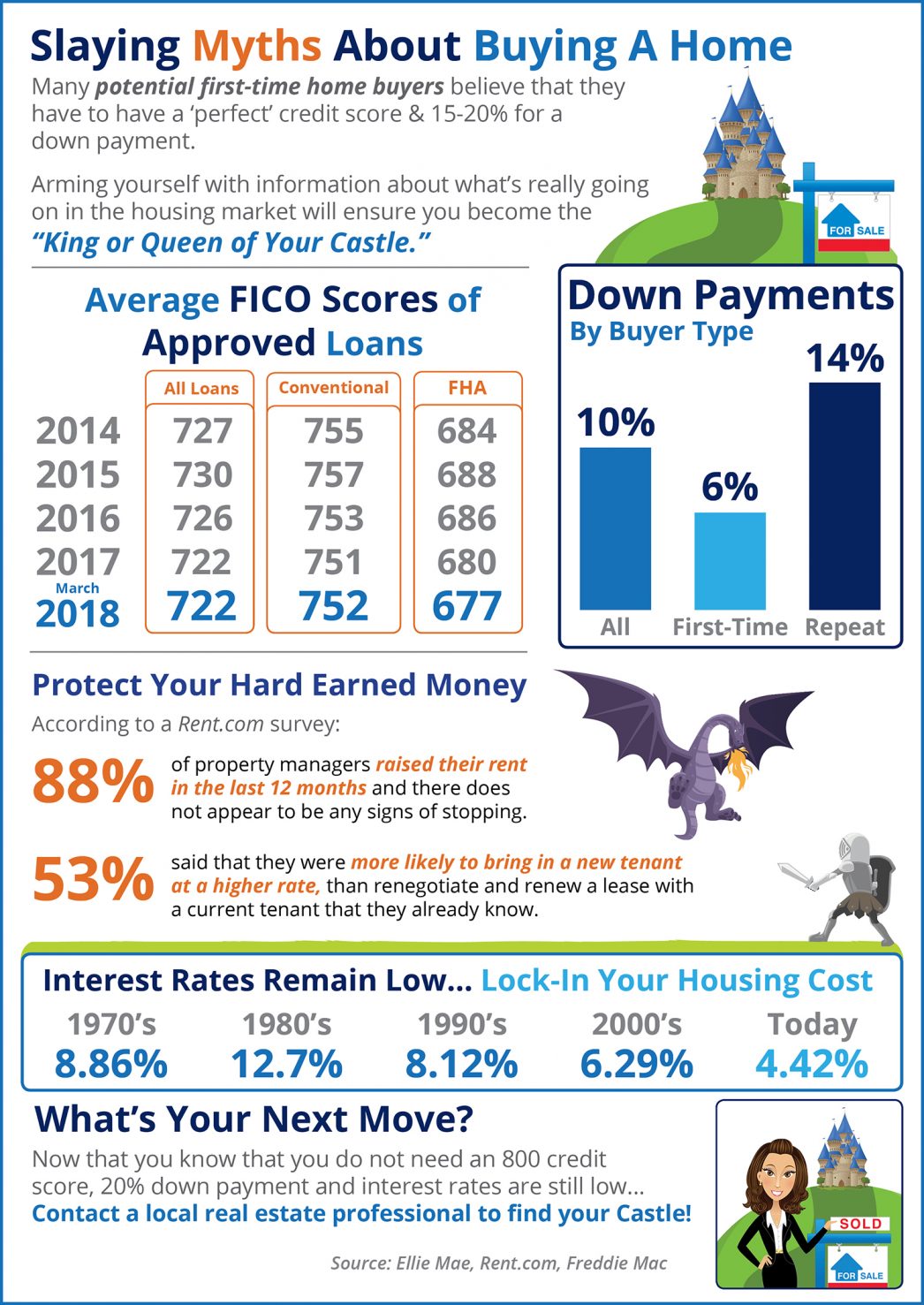 Some Highlights:
The average down payment for first-time homebuyers is only 6%!
Despite mortgage interest rates being over 4%, rates are still below historic numbers.
88% of property managers raised their rents in the last 12 months!
The credit score requirements for mortgage approval continue to fall.
Weekly Mortgage Rate Update
Strangely, mortgage rates moved higher during the second half of the week without a clear cause. The economic data released this week produced little reaction, and there was not much change in the stock market. Still, mortgage rates finished near the highest levels in several years. 

THIS WEEK'S RATE TREND IS 

UP




Rates Rise after Eight Weeks of Stability
After eight weeks of stability, average mortgage rates jumped across the board rising to their highest so far in 2018 to 4.47 percent according to the weekly Freddie Mac Primary Market Survey. Data from the survey indicated that 30-year fixed-rate mortgage rose to 4.47 percent from 4.42 percent a week earlier. The rates during the same period last year were at 3.97 percent.
"Treasury yields rose ahead of the release of the Fed's Beige Book and speeches from New York Fed President William Dudley and Fed Governor Randal Quarles," said Len Kiefer, Chief Economist at Freddie Mac. "Following Treasurys, mortgage rates soared. The U.S. weekly average 30-year fixed mortgage rate rose five basis points to 4.47 percent in this week's survey, its highest level since January 2014 and the largest weekly increase since February this year."
Data indicated that 15-year fixed-rate mortgage also increased this week to 3.94 percent from 3.87 percent in the week prior, while 5-year Treasury-indexed hybrid adjustable-rate mortgage averaged 3.67 percent during the week, increasing slightly from 3.61 percent last week.
But the rate rise has been expected for some time. "Rate increases are expected for much of 2018, with the 30-year fixed rate mortgage expected to approach 5 percent by the end of the year," said Danielle Hale, Chief Economist, Realtor.com.
According to Kiefer, the Beige Book released by the Federal Reserve earlier this week indicated that economic activity in March and early April continued to expand at a moderate pace, but there is concern from various industries surrounding tariffs.
Hale said that this environment of rising rates might pose an additional challenge to homebuyers in an already competitive buying season. "Joint research from the realtor.com and National Association of Realtors shows that, with few exceptions, U.S. housing markets are less affordable now than they were one year ago as result of rising prices and mortgage rates," said Hale. "Looking at a range of incomes, Hawaii, California, and Oregon had the lowest affordability scores which show that homes available for sale are out of reach for a majority of households."
The information contained, and the opinions expressed, in this article are not intended to be construed as investment advice. Keeping Current Matters, Inc. does not guarantee or warrant the accuracy or completeness of the information or opinions contained herein. Nothing herein should be construed as investment advice. You should always conduct your own research and due diligence and obtain professional advice before making any investment decision. Keeping Current Matters, Inc. will not be liable for any loss or damage caused by your reliance on the information or opinions contained herein.