The Marina Del Rey, CA Condominium Market Trends Report is published.. Those of you who read my Blog Post regularly might think that I am just cutting and pasting my last Market Reports. Honest it is new information but the message sounds familiar. Inventory is tight, there are few listings and prices are increasing.
So with this introduction let's see how the Marina Del Rey, CA Condominium Market has fared...
Clearly you can see inventory remains tight. So therefore I would not be surprised that Days on Market has been shrinking as well.
I noticed that the Condominium Market was fast in Marina Del Rey, CA but even I was shocked how fast the market is moving.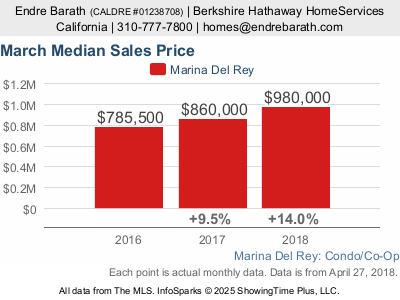 Clearly I am not surprised that the prices have increased. The answer is easy, interest rates have been inching up and Marina Del Rey, CA remains a very desirable area. I have lived there for almost ten years and I understand the attraction.
Close proximity to the ocean a young and vibrant community....
Now if you are considering selling or buying reach out to someone who is still a local at heart.
If you are looking for a pet friendly Beverly Hills Realtor who can handle and sell the most difficult properties that no one else could, please reach out to me directly!! If you are considering buying or selling a home, a luxury home, luxury investment real estate, luxury vacation homes, or luxury beach properties in Southern California, Los Angeles, Century City, Westwood, West Hollywood, Beverly Hills, Marina Del Rey, Venice or Malibu, feel free to contact me at 310.486.1002 (m) or homes@endrebarath.com or visit one of my websites at http://www.endrebarath.com.  I contribute a portion of my commission to local animal rescue organizations.