Improve Your Outdoor Living Space!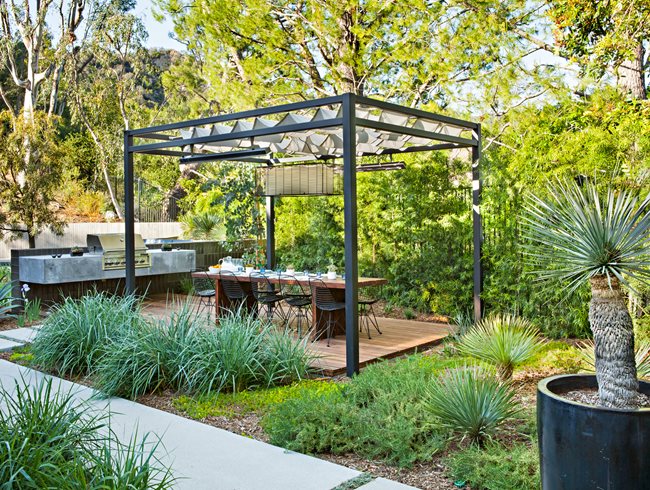 Being that it's almost summer you'll want to make sure your outside gathering spaces are up to par! These tips will brighten your summer spaces, and are easy to achieve. Take a look at the tips listed below and try them out this year for summer!
Repair & Restore Your Deck
Find the Right Furniture
Add Outdoor Lighting
Install a Decorative Deck Railing
Screen Your Deck
Invest in a Deck Umbrella
Repair and Restore your deck. This is an important part of fixing up your exterior living spaces. Whether its a brick patio, wooden deck, or concrete slab when repair are obviously needed the end results will never look as nice without completed what NEEDS to be done. Not only is it important for you to have a restored deck for aesthetic reasons, but also for safety reasons. Brick patios and raise and buckle, this is dangerous for everyone, simply because they can trip and fall, potentially hurting themselves very badly. With Wood decking, splinters and slivers can cause a set of issues on their own as well. The point is, replace what absolutely needs to be replaced. Sometimes you'll have to replace an entire deck/patio... others you'll simply need to sand and re-stain it.   Take care of the surface problem then work your way up. Obviously this isn't high up on the fun-o-meter but its very important. *I recommend power-washing these surfaces first, before staining, or painting.
Find the right furniture. Deciding what kind of furniture you want can set the mood for the entire space. First make the choice of what your using the space for. Do you want to read and relax, or entertain and grill out. Depending what you most likely want to do, then we can select the proper items. If you want to entertain pick a larger table and chair set. To relax and lay out, then consider a patio couch. There are soo many fun options and they can be put together in a lot of different ways! Explore those option and base your choices on what you'll primarily be doing. If you have enough space or multiple areas your working on then you can incorporate a different pieces!  Have fun with it and your outdoor space will come together beautifully.
Outdoor Lighting. This is a great way to not only add style to your outdoor space but it will add functionality and safety. Adding lights will allow you to enjoy your newly renovated outdoor retreat throughout the entire night! Why go inside when we wait for warm weather for what seems like an eternity?! Exactly.
String Lights
Globe Lights
Deck Track Lighting
Deck Post Lighting
Recessed Deck Lighting
Install a Decorative Deck  Railing. Choosing to replace or install a deck railing can bring unexpected charm to your deck. Any deck that is raised off the ground has to have a railing, so why choose an ordinary spindle railing. There are so many different styles you can choose. There are iron railings, standard wood railings, glass railings, cable railings etc. There are plenty of styles you can choose from and these are only a few of them. If you don't really want to replace your railing, or you can afford it just yet, try adding a paint or stain. When you repaint your deck you can expect that you'll end up having to repaint them roughly once a year.
Screen Your Deck. Adding a screened perimeter to your deck will transform this area completely. This will not only transform this space, but it will help keep the bugs from pestering you. Nothing is worse than when the mosquitoes are bad, and you cant enjoy your nights outside during the summer. you'll need to add a roof to your deck to accomplish this look. Much like other exterior projects there are plenty of options to choose from, screen styles are no different. There are plenty of way to complete this look. You can frame out the screens with wood or metal beams, or you can leave the beams out and have screens do all the work.
Invest in a Deck Umbrella. Deck umbrellas are a great resource for some much needed shade in the summer. As most patio tables come with slots for your umbrella, a hot trend are side-mount cantilever umbrellas. You can easily transfer these from place to place and add a trendy look to your deck space. Umbrellas obviously come in different styles, colors, patterns, and sizes. accompany your new umbrella with a light that is easily attached around the top of the umbrella. This will help if you are dining later at night or playing games. Umbrellas might seem like a generic idea to add to your deck but believe me they can tie the entire space together.
To find where we got our list of awesome trends follow the link below...
https://www.improvenet.com/a/6-tips-to-style-your-deck-this-summer
Tyrone Lake Hartland and Fenton Michigan
Lakefront Homes for Sale Wallace Lake Harland Township Michigan
The bargain homes and the move in ready homes sometimes sell in just a few days.  So Many homebuyers never even see them because they are not getting the newest home listings sent to them.  Get the best homes emailed to you as soon as they hit the market.  Join my