Years ago, when I was still in high school, I was part of a nationwide delegation that had the privilege to visit the nations Capitol and meet senators, representatives, and several other political and public figures of our country. I toured the halls of congress, visited the great monuments dedicated to former Presidents Lincoln, Jefferson, and Washington and even dined in the restaurants where past luminaries like Nixon, Kennedy, and Johnson enjoyed their lunches and dinners.
However, one of the greatest moments that I witnessed was the changing of the guards at the Tomb of the Unknowns. It was an amazing thing, seeing that the earthly remains of these unknown service men being protected and honored. In case you didn't know, the Tomb is guarded 24 hours a day, 365 days a year. I didn't realize it back then, but looking back today, I realized I was in the presence of thousands of soldiers, airmen, seamen, and corpsmen that will never be mentioned in the history books by name and their memories will only be remembered by their loved ones and those that new them. Some may have had their likeness and names printed in obituaries and, more recently, broadcast on the evening news in certain cities and towns. However, unless they were a great general or commander, or turned their war time heroics into a successful political career, many of them will never be remembered by the general public, their only mark left to the masses is a tombstone in the plush green fields of the National Cemetery along with thousands of other unsung heroes.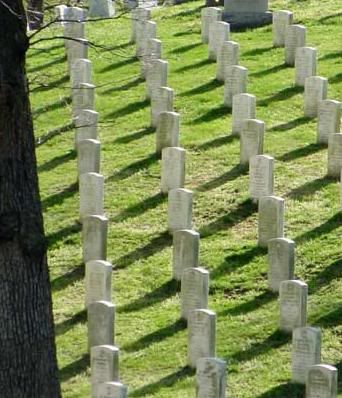 This weekend, while you're enjoying your extended weekend, take time to remember the heroes that gave themselves to fight for our freedoms and our rights, and thank the ones still here with us for doing a duty many of us have never undertaken. Keep in you prayers and your thoughts the thousands of currently active duty and reservists that are abroad and stateside that make it possible for us to enjoy a 3 day weekend with out fear of tyranny or oppression. Visit your local National Cemetery and take a moment to remember the forgotten, unsung, and unlisted heroes that allow you the liberty and freedom to pursue your dreams and endeavors. I'm sure thousands of people will converge on the monuments and cemetery in Washington, D.C. and it's vicinity this weekend as well as other monuments and edifices across this great land that salute our heroes. Will you be one of them? Will you honor their memory this Memorial Day? I will. I hope you will too!