The new Phoenix Comic Fest (replacing Comic-Con) is at the Phoenix convention center through this weekend. Get out with the family have some fun Thursday through Sunday ending May 27, 2018.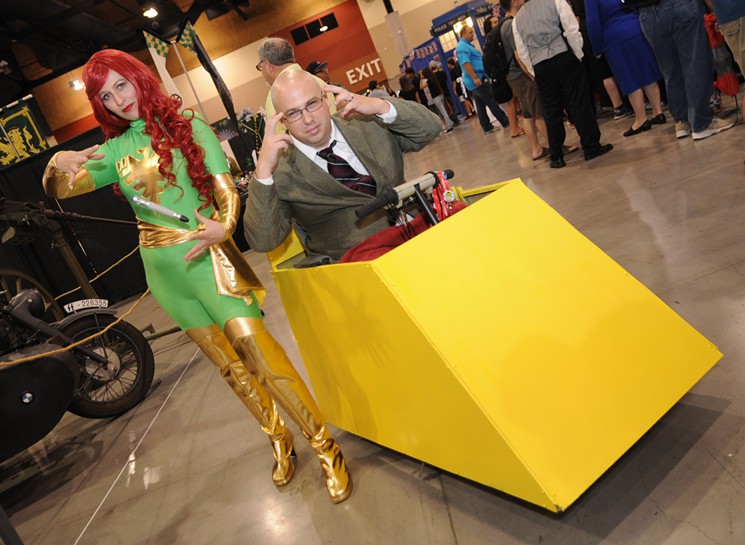 Even strange alien wanna be's at Phoenix Comic Fest, need real estate to park their car of the future.
We all saw, in person or on television at Comi-con in past years the strange characters parading through the convention center. What do these out of this world characters and real estate have in common? Well at least for the Star Wars and strange alien characters...
The latest in the Star Wars saga comes soon to screens near you in "Solo". For you Star Wars and Comic Fest fans how does this all relate to real estate one may ask. Welllllll here goes...
...The Dream Lives! Yes Obi-Wan- Kenobi. "The Force" drives us to the dream to own our own home in our own galaxy. 
The "Force" Lives
Economy in a crisis, job questionable, health insurance issues, children need braces, no
pension? One thing does not change is:
The DREAM TO OWN OUR OWN HOME!
Obi-Wan does not want to constantly wander in a "Star Cruiser" in a galaxy far far away. A day at the office can drain some of "the force" from you.
It is nice for Obi-Wan Kenobi to come home put his feet up and get away from the Empire at work for a nice evening and turn on the BBQ and drop a steak and watch a little of the Intergalactic World Series on the hologram television in his own living room.
A strong inner urge, the "Force" is in him and us.
Obi-Wan says the "Force" to own a home is yet strong in this one.
The "Force" to Own Your Own Home

"The Force" drives us says Obi-Wan,

1. Live under your own roof, not under the roof of the Empire
2. Plant a garden, grow tomatoes
3. Put markers on the wall as young Luke Skywalker grows up.
4. Repaint your home without asking a landlord or the "Empire"
5. Laugh, love and play let the family memories take root..."The Force" grows
6. Plan Christmas gatherings in your own home
7. Teach the children to swim in your own anti-gravity pool
8. Ride bikes in your own neighborhood
9. Garage sales 
10. The room expansion project of your dreams


                      Yes Obi-Wan...young Luke says the Force is yet STRONG to own your own home!

See what CNN has said about Americans continuing strong attitudes regarding The Force!

NEW YORK (CNNMoney.com) -- "The American Dream is still alive and kicking, including within immigrant and minority communities, according to a survey from mortgage giant Fannie Mae.
The housing crisis hasn't quenched the homeownership thirst, the company found. More than 51% of people said the bust did not change their willingness to buy a home and an additional 27% said it actually made them more likely to do so.
"The crisis has not put a dent in the desire to own," said Doug Duncan, Fannie's chief economist, "although it may have changed the reasons that people want to own."
The report, the first close analysis Fannie has taken of consumer attitudes about the rent-or-own decision, found that qualitative reasons -- like having the ability to remodel or to send the kids to a better school -- have overtaken financial considerations as the primary motivators for homeownership.
Buying a home... thoughts of the public 
The public just wants to own a home. Also, more than half the public thought buying a home was a good idea financially even if they plan to move out in less than three years. That's actually rarely true because transactional costs like real estate commissions, title insurance costs and mortgage fees take a big cut off the top of selling and purchase prices.
Furthermore, a huge majority, 86% of those surveyed, cite income-tax benefits -- mostly the mortgage interest deduction -- as a big reason to buy. That benefit, however, is very small for most homeowners or even nonexistent.
"Lower-income homeowners, for example, don't itemize," said Duncan, "so there is no tax benefit for them at all." Even with these issues at hand, the public has the "force' to do what their parents and grandparents did and own their own home. It provides satisfaction, comfort, and community.
Broad homeownership hopes for Americans

Fannie Mae found that no matter what their ethnicity or immigration status, Americans generally share similar positive attitudes toward homeownership, even though there are substantial differences among these groups in homeownership rates.
It seems that economic opportunities, not attitudes, account for much of the variation."
Ready to buy a home? Buy a home in Arizona See link for homes, prices, pictures and map locations.
Force Thrives...let me hear your thoughts?

What do you say about the Force that drives us to buy a home? It may be time to buy a home in Arizonaby looking at what is available for sale in this galaxy. Give me a call when the force beckons.
If you are looking to move to Phoenix including Scottsdale or to buy a home in Arizona or sell a home in Arizona, contact Jeffrey Masich, Associate Broker and Realtor. I would be pleased to help you and look out for your best interests while finding you the right home at the right price!
Press FREE MLS Search for search for homes for sale in Arizona