The Playa Vista, CA Market Trends Report is published... now if you are not familiar with this community to give you a quick refresher. This was the latest planned urban development (PUD) in Los Angeles in the past sixty years. It is located about two miles from the Pacific Ocean between Playa Del Rey, CA and Marina Del Rey, CA. What makes this so desirable is because Google, Yahoo and all the other Tech Start Up Companies are walking distance to this community. It has become so trendy that there are waiting lines for the new construction that is being built.
So with that said let's look at the Statistics: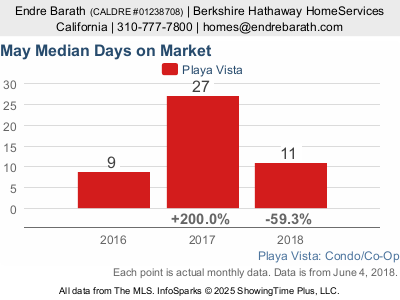 I decided to do the Median Days on the market to set the stage. Clearly 11 days on the market tells you what is about to follow higher prices and multiple offers.
Now let's look at the homes that are available for sale: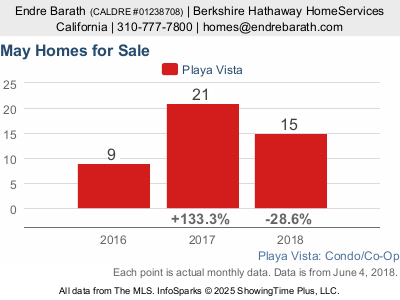 As you can see there is a very tight supply so do not be surprised what direction the prices will be...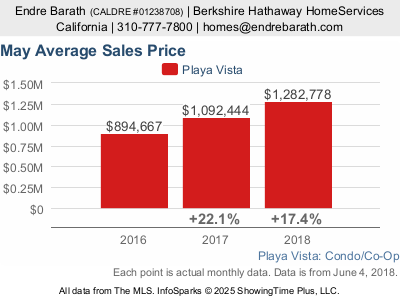 As I have been advising all potential buyers on the West Side of Los Angeles,CA nothing changed. My advice is if you are considering buying do not wait. The longer you wait the more it will cost you. Well just look at the above chart for the past three years month over month comparison will tell you DO NOT WAIT, buy now...
If you are looking for a focused and goal-oriented Realtor in the Beverly Hills area who will help you achieve your Real Estate goals, please reach out to me directly!
If you are looking for a pet friendly Beverly Hills Realtor who can handle and sell the most difficult properties that no one else could, please reach out to me directly!! If you are considering buying or selling a home, a luxury home, luxury investment real estate, luxury vacation homes, or luxury beach properties in Southern California, Los Angeles, Century City, Westwood, West Hollywood, Beverly Hills, Marina Del Rey, Venice or Malibu, feel free to contact me at 310.486.1002 (m) or homes@endrebarath.com or visit one of my websites at http://www.endrebarath.com  I contribute a portion of my commission to local animal rescue organizations.