Marina Del Rey, CA is one of the best beach towns in the greater Los Angeles area. It never gets old it has a vibrant and young feel to it. I have lived in Marina Del Rey, CA for about eight years and I have wonderful memories of my time here. Needless to say always love to help buyers and sellers either move up or move into this community. So with  that said let's look at the Condominium Inventory: As you can see inventory remains very tight and buyers need to be ready to step in when they see a Condominium that fits most of their needs and wants otherwise they will miss out to another buyer!
Let's look at the Days on Market Numbers:
Marina Del Rey, CA 90292 remains a very strong and fast seller's market. I do not even have to see the sold statistics. I am confident prices have increased due to the inventory shortage and the strong demand. All this translates to Multiple Offer situations.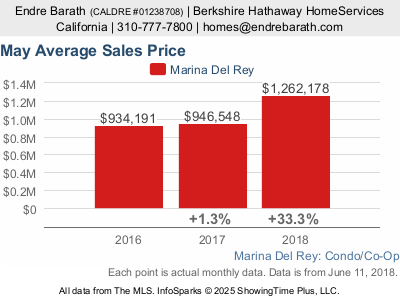 As you can see the May 2018 average sales prices have increased. So with that said if you are considering buying a Condominium in Marina Del Rey, CA please reach out to me directly for a confidential strategy.
If you are looking for a pet friendly Beverly Hills Realtor who can handle and sell the most difficult properties that no one else could, please reach out to me directly!! If you are considering buying or selling a home, a luxury home, luxury investment real estate, luxury vacation homes, or luxury beach properties in Southern California, Los Angeles, Century City, Westwood, West Hollywood, Beverly Hills, Marina Del Rey, Venice or Malibu, feel free to contact me at 310.486.1002 (m) or homes@endrebarath.com or visit one of my websites at http://www.endrebarath.com  I contribute a portion of my commission to local animal rescue organizations.