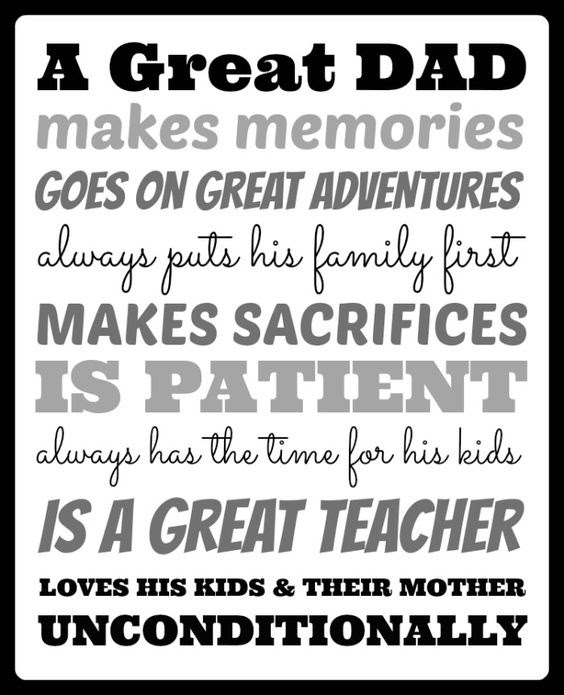 1.  A Father is neither an anchor to hold us back nor a sail to take us there but a guiding light whose love shows us the way.
2. A Father is someone you look up to no matter how tall you grow.
3. Any man can be a Father it takes someone special to be a Dad.
4. My Father didn't tell me how to live, he lived and let me watch him do it.
Clarence Budington Kelland
5. Dads are most ordinary men turned by love into heroes, adventurers, story-tellers, and singers of songs.
Pam Brown
6.  The righteous man walks in his integrity. His children are blessed after him.
Proverbs 20:7
7. A Father's love warms the hearts of his children forever. 
8. A truly rich man is one whose children run into his arms when his hands are empty.
9. Every Father should remember that one day his children will follow his example instead of his advice. 
10. A good Father is one of the most unsung, unpraised, unnoticed and yet one of the most valuable assets in our society.
Billy Graham 
May you make this a
Happy Father's 
Day
Click here to check out  LongIslandCashHomeBuyer if you or anyone you know wants to sell a house quickly in as in condition for all cash.
Sell Your Property As Is For Cash 
Sell Inherited Properties For Cash
Beth Witt
 I am addicted to quotes...hope you enjoy them as much as I do.