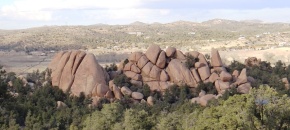 Eleven Acres of Boulders and Pines in Wikutepa
 <<< Click on the thumbnail to see the virtual tour
This gorgeous 11.37-acre lot is one of the most picturesque lots in all of Prescott and Williamson Valley. The lot has numerous Pinon Pine trees and some of the biggest boulders in Yavapai County. This lot is in the well-planned and gated community of Wikutepa and is located west side of American Ranch and Mint Creek. The property abuts The Prescott National Forest on the west. East edge of lot is adjacent to Cougar Canyon Road. The parcel is crossed by a dirt road, as well. This lot is covered by some of the largest boulders in Yavapai County.   



  MLS #: 1004185
I would post this as a Listing but it does NOT have an address that works for the AR Rules. 
See John Mosier's other listings on PrescottPineTreeHomes.com.