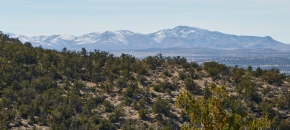 Own your own 517-acre Mountaintop State Trust Land on 4 sides! $300,000  

<<<< Click on the thumbnail to see the virtual tour.
Own your own 517-acre mountain here! This is one of the largest land offerings in the Seligman Area. This land has it all: mountaintops as high as 6,200 ft, dense forest with Alligator Juniper, One-Seed Juniper & Pinon Pine, cliffs & rock outcroppings, forever views and sections of Arizona State Trust Land on four sides. Panoramic views are spectacular and include views to the San Francisco Peaks nearly 80 miles to the east & Cross Mountain to the west.   Get more INFO on Sierra Verde Ranch    



  MLS #: 1001057
See All John Mosier's Listings on PrescottsLandMan.com.