This question came from one of my referral agents, she wanted to know if I was familiar with Malibu as well? At the same time she was wondering how the Market was. So with that said since I gave her the update I thought I would share it here as well.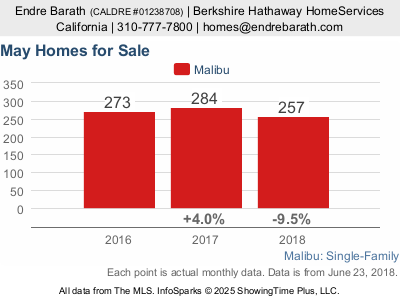 Just like every where else not just in Malibu but in the Greater Los Angeles area, there is a shortage of inventory. This is because of many reasons and it translates into a fast and heated  Real Estate Market.... Not suprisingly the Days on Market are quiet fast, that of course translates into a seller's market which translates into multiple offer situations and above asking price sales.
Seldom do I write about Dollar Volume but this is more for all the International Buyers and anyone who reads it need to understand that this is a serious market and a great deal of money is exchanged to be able to call Malibu one of your residences.... If you are looking for a focused and goal-oriented Realtor in the Beverly Hills area who will help you achieve your Real Estate goals, please reach out to me directly!
If you are looking for a pet friendly Beverly Hills Realtor who can handle and sell the most difficult properties that no one else could, please reach out to me directly!! If you are considering buying or selling a home, a luxury home, luxury investment real estate, luxury vacation homes, or luxury beach properties in Southern California, Los Angeles, Century City, Westwood, West Hollywood, Beverly Hills, Marina Del Rey, Venice or Malibu, feel free to contact me at 310.486.1002 (m) or homes@endrebarath.com or visit one of my websites at http://www.endrebarath.com  I contribute a portion of my commission to local animal rescue organizations.