Just received a call from one of my many referral sources who know that I lived ten years in Marina Del Rey, CA and knew that I have a special spot in my heart for Marina Del Rey, CA. She wanted to know how the Condominium Market is doing. Needless to say I always enjoy sharing information, but in this instance I thought I would share with all my readers as well. Just like everywhere else inventory is tight well see for yourself! Clearly you can see Days on Market is incredibly fast, hard to visualize that for two years consistently the sales have taken place in less than 12 days...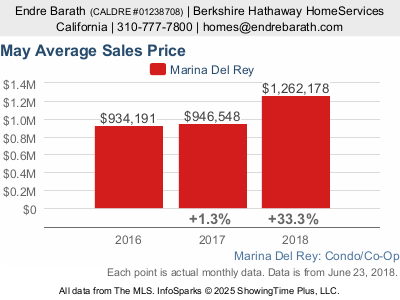 Not surprizingly the Average Sales Price has been increasing as well. Now if you are considering selling or buying a Condominium in the Marina Del Rey, CA area please reach out to me for a confidential conversation.
If you are looking for a focused and goal-oriented Realtor in the Beverly Hills area who will help you achieve your Real Estate goals, please reach out to me directly!
If you are looking for a pet friendly Beverly Hills Realtor who can handle and sell the most difficult properties that no one else could, please reach out to me directly!! If you are considering buying or selling a home, a luxury home, luxury investment real estate, luxury vacation homes, or luxury beach properties in Southern California, Los Angeles, Century City, Westwood, West Hollywood, Beverly Hills, Marina Del Rey, Venice or Malibu, feel free to contact me at 310.486.1002 (m) or homes@endrebarath.com or visit one of my websites at http://www.endrebarath.com  I contribute a portion of my commission to local animal rescue organizations.