5456 Broadmoor St Alexandria Va 22315 New Listing - See Rising Family Wealth After Listing information
Originally Posted At: https://www.comehomevirginia.com/-/listing/300418893/5456-Broadmoor-St-Alexandria-VA-22315
The beautiful home you've been dreaming of in sought after Hayfield Farm Harvester Model with wonderful addition. Owner's private sanctuary on a separate level Master Bedroom Suite with Sitting Room Private Balcony and Study/Nursery/Bonus Room. Gourmet Kitchen, Breakfast nook, Butler's Pantry, Separate Dining Room & Breakfast Nook. Once you see it you'll know you've found the home of your dreams
New Listing Hayfield Farm Remodled Home For Sale
Private Level Master Bedroom Suite
Private Master Bedroom Sanctuary on Separate Level

Master Bedroom Private Balcony

Master Bath Dual Shower

Master Bath Luxury Tub

Master Bedroom Sitting Room

Master Bedroom Study - Bonus Room - Nursery

Gourmet Kitchen

Breakfast Nook &

Eat-In Kitchen Counter

Separate Dining Room

Butler's Pantry

Formal Living Room

Family Room with Gas Fireplace

Game Room - Play Room

4 Bedrooms on 1 Level (total 5 with Master Bedroom)

Garage with extra storage as well as Floored Attic Storage

Laundry Room on Kitchen Level

Approximately 3380 square feet of living space
See Home Video Virtual Tour Below
Originally Posted At: https://www.comehomevirginia.com/hayfield-farm-homes-for-sale-alexandria-va
HAYFIELD FARM NEIGHBORHOOD INFORMATION
The Hayfield Farm neighborhood is located in the Alexandria area of Fairfax County. Hayfield Farms subdivision consists of 689 single family detached homes built in the 1960's and 1970's most of the models are Colonial or Split-level floorplans with 3-4 bedrooms being the most typical.
Hayfield Farms has much to offer home owners near shopping includes:
Hayfield Plaza Shopping Center, Kingtowne Towne Center
Grocery Stores within minutes include: Wegmans, Giant Food, Shoppers Food & Pharmacy & Safeway.
Parks near or adjact to Hayfield Farm
Huntley Meadows Park, Lee District RECenter are both within minutes of the community and Huntley Meadows Park actual forms the communities eastern boarder.
Golf: Greendale Golf Course and a Top Golf are nearby.
Swimming Club Hayfield Farm Swim Club
And so much more...
See below to Search Hayfield Farm Homes For Sale and Sold
FOR MORE INFO ON THIS HOUSE
TEXT DAVE6 TO 88000
OR CALL (703) 585-4687 
YouTube Virtual Tour 5456 Broadmoor St
---
Rising Prices Will Help Build Your Family's Wealth...
But By How Much?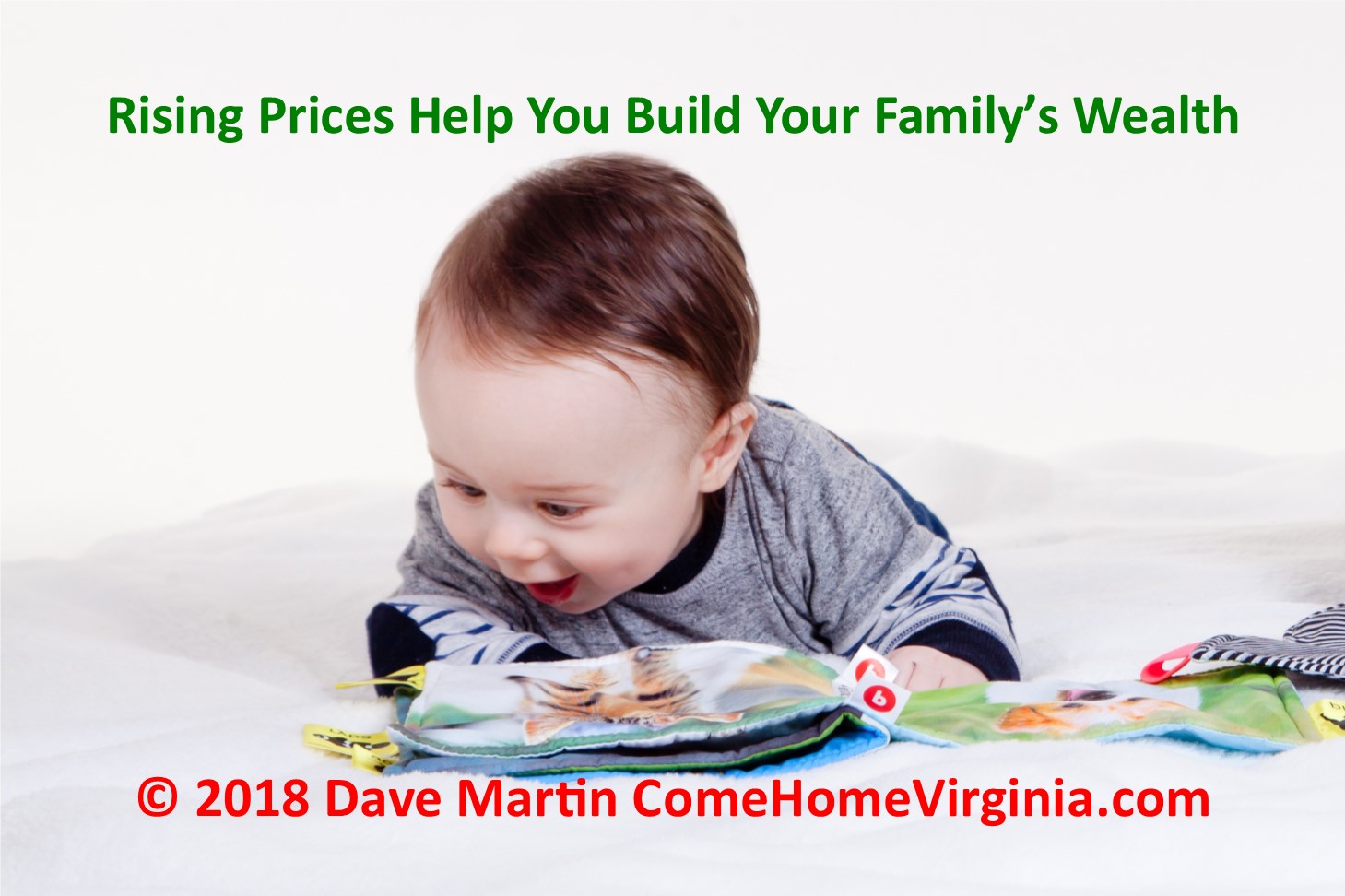 Originally Posted At: https://www.comehomevirginia.com/what-will-your-house-be-worth-5-years-from-now-market-update-forecast
---
As the saying goes, "unless, you've been living under a rock" you are probably aware that real estate is presently in a seller's market. Based on the current level of inventory (Homes for Sale) and the current absorption rate definition presently the current inventory indicates that most neighborhoods in the Northern Va metro area have approximately 2 months supply of homes for sale, currently Hayfield Farms has very low inventory. This applies to homes in both the starter price levels properties, homes in Hayfield Farms will fall into the entry / first-time home buyer range for some buyers but the more likely buyer will be moving up or perhaps a lateral move from a different area.
Interestingly the higher priced or luxury level homes in Northern Virginia are experiencing a buyers market with respect to available inventory, which means those that are ready to move up to high-end or luxury priced home are in the best of both worlds. Being able to buy with the advantages of a buyer's market while selling their current house in seller's market conditions. If you presently own a house in Hayfield Farm and you are ready to for a move up you are in a great position right now. Read: "Moving up to a luxury home.. now's the time." 
Your home should first and foremost be a place you love a place where you, your family and friends feel comfortable and a place to make wonderful memories. A house is also the source for most individuals, couples and families have the best chance to grow their net worth. Even with moderate price appreciation rates in homes in just a few years time the increased values are quite impressive. 
Real Estate experts currently estimated that over the next five years, home prices will rise, on average, by more than three and a half percent per year that's about 18.2% cumulatively, according to Pulsenomics' most recent Home Price Expectation Survey.

What Is Your Hayfield Farm Home Worth Now? CLICK 

What does this mean to Hayfield Farm homeowners equity?
Let's take a look at one possibility for a median priced home in N. Virginia. Assume a young couple bought and settled on a $400,000 home this year in January. If we look at the forecast increase in the price of that house, how much will their home equity increase in 5 years?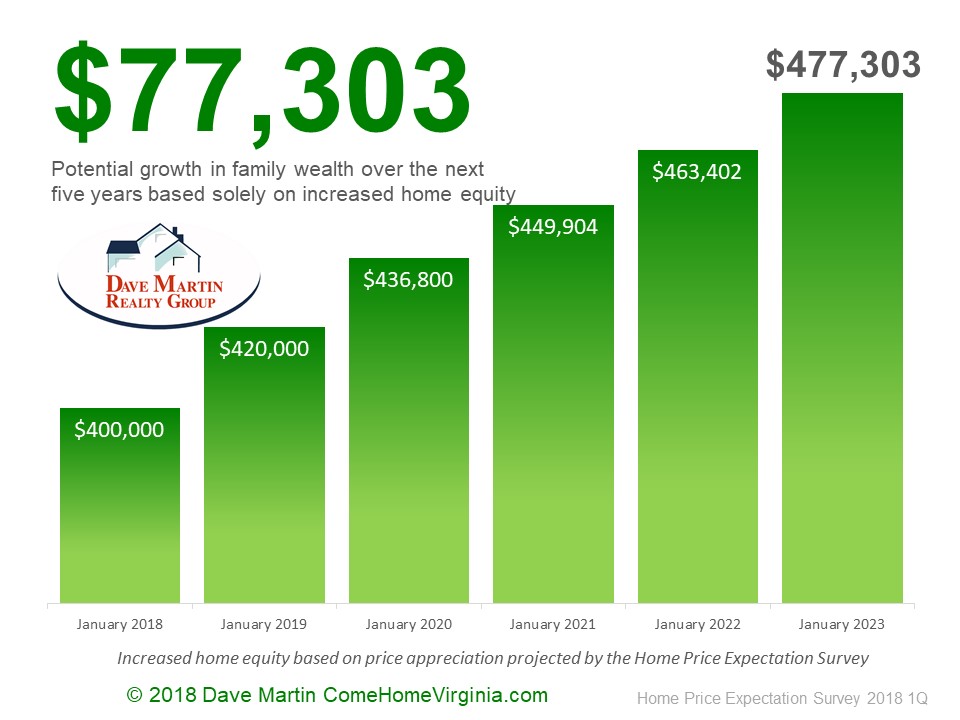 Many experts predict that home prices will increase by 5.0% in 2018, (this will vary with region of the country as well as your particular neighborhood) be sure to consult a real estate professional in your area for values; in the example above, the new homeowners will have gained $20,000 in equity in just one year.
Over a five-year period, their anticipated equity will increase by over $77,000! This figure does not even take into account their monthly principal mortgage payments. In this example with a $320,000 30 year fixed rate mortgage this family will also have over $28,000 equity build up from paying down the principal of the mortgage. It's important to remember that in most cases, home equity is the largest portion of a family's overall net worth. Is it any wonder why a home owners average net worth is approximately 45 times greater than a renters?
 HOMES FOR SALE IN HAYFIELD FARM
Bottom Line
Not only is homeownership something most people take great pride in achieving, but it also gives you and your family the opportunity to build equity you can borrow against in the future. 
This information about "Rising Home Values — Family Wealth & New Listing in Hayfield Farm Alexandria, VA. 22315" is brought to you courtesy of Dave Martin Realty Group, your Northern Virginia residential real estate experts.
If you're considering selling or buying a house in the Hayfield Farm Neighborhood or in the Northern Virginia metro area, we'd love an opportunity to earn your business, provide you an outstanding experience, and demonstrate to you that:
"Help From The Best Agent Makes All The Difference."
Additional Real Estate Posts
Fake New — Home Buying Truths
Home Buying — Preparation for Success
Home Buyers - Costly Mistakes To Avoid In A Seller's Market
Move Up To A Luxury Home? — Now Is A Great Time!
Sellers These Are The Features Home Buyers Want Most