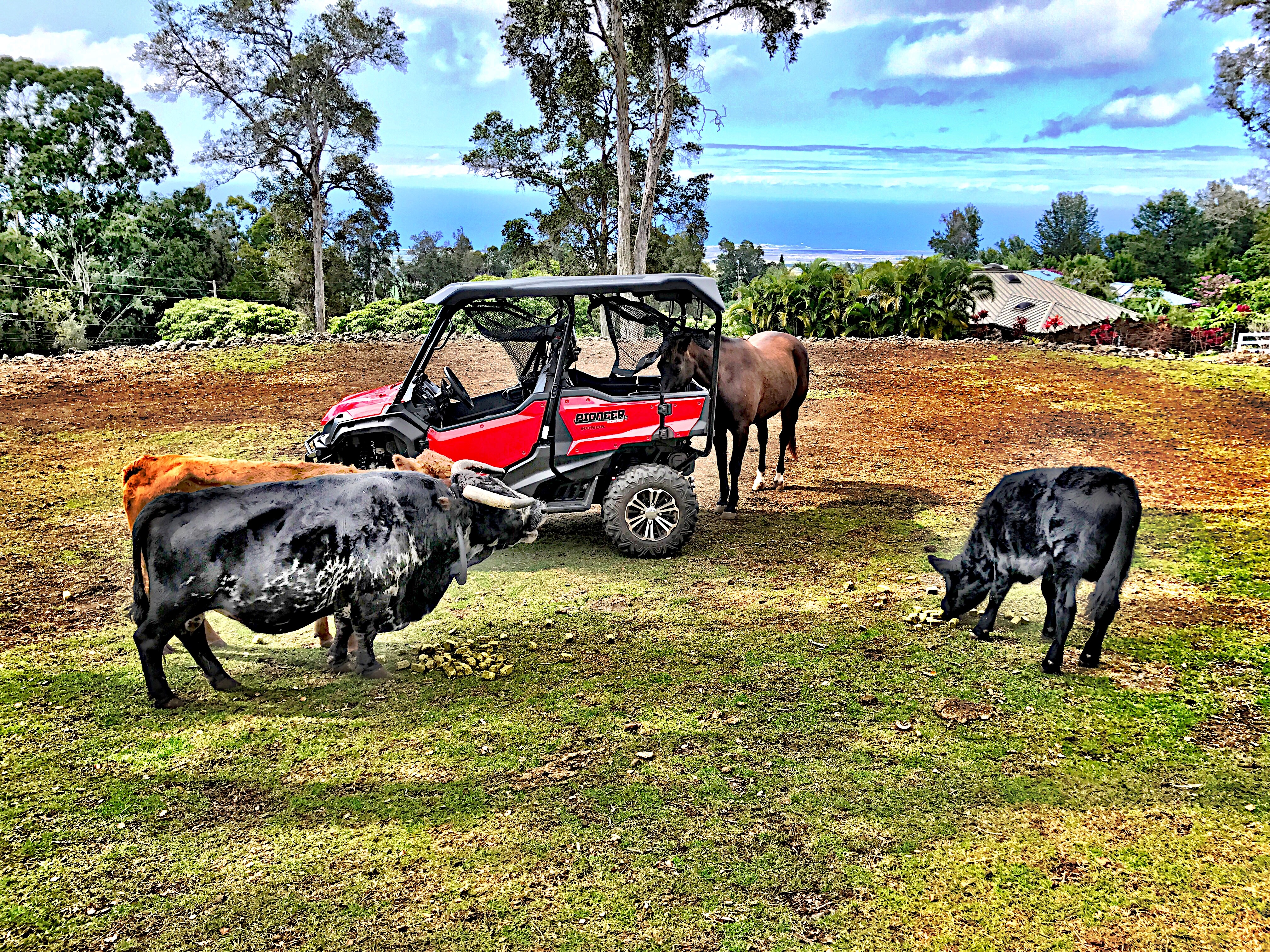 (why the cows in the photo - because I couldn't find the photo of my dog in a prison suit - lol) 
Starting Jan. 1, 2019, Hawaii joins more than 20 other States in making it illegal to knowingly represent your "pet" as a "service animal", violators will be fined anywhere from $100 to $500 for pretending to have a service animal.
"The legislature finds that there is a growing problem with people fraudulently representing untrained animals as service dogs.  This has resulted in legitimate service dogs being needlessly distracted or even attacked by untrained dogs or other animals, as well as in violations of the food and sanitation code"
Although the State admits that it will be hard to enforce this new law, they will largely count on the fact that most people are law abiding citizens.  The mere fact that they know in the back of their mind what they are doing is illegal, and  that someday they may get caught, may get fined, and worse than all that, they will have this in their "record'. 
Things they will be looking for.
1.    False documents. Knowingly creating documents that falsely represent that an animal is a service animal or an assistance animal;
2.    Providing false documents. Knowingly providing to another person documents falsely stating that an animal is a service animal or an assistance animal; (this could be as simple as stating/claiming it on your rental contract)
3.    Harness, collar, vest or sign. Knowingly fitting an animal, when the animal is not a service animal, with a harness, collar, vest or sign of the type commonly used by a person with a disability to indicate an animal is a service animal; or
4.    Falsely representing animal as service animal. Knowingly representing that an animal is a service animal, when the animal has not completed training to perform disability-related tasks or do disability-related work for a person with a disability.
Here is a link to the full Senate Bill SB2461
There is no official U.S. registry for service dogs, nor are service animals required by law to wear special vests, collars or harnesses
BEWARE homeowners, landlords, restaurant owners…… this does not take away from very defined ADA regulations:
 Frequently Asked Questions About Service Animals And The ADA
Many people with disabilities use a service animal in order to fully participate in everyday life. Dogs can be trained to perform many important tasks to assist people with disabilities, such as providing stability for a person who has difficulty walking, picking up items for a person who uses a wheelchair, preventing a child with autism from wandering away, or alerting a person who has hearing loss when someone is approaching from behind.
The Department of Justice continues to receive many questions about how the Americans with Disabilities Act (ADA) applies to service animals. The ADA requires State and local government agencies, businesses, and non-profit organizations (covered entities) that provide goods or services to the public to make "reasonable modifications" in their policies, practices, or procedures when necessary to accommodate people with disabilities. The service animal rules fall under this general principle. Accordingly, entities that have a "no pets" policy generally must modify the policy to allow service animals into their facilities. This publication provides guidance on the ADA's service animal provisions and should be read in conjunction with the publication ADA Revised Requirements: Service Animals.