So I ask - is it possible to break disposal blades?  Let's hear an answer!
Disposal blades are called "impeller blades."
They are designed in different shapes to attempt to cut and chop debris in the disposal.
The smaller it is chopped, the easier garbage is to wash away.  The larger the motor (builder size 1/3 horsepower - my disposal 3/4 horsepower) the better the chop, slice and dice.
However, no blade-o, no chop-o.  That's perfect Spanish.
So, turning on this disposal it sounded funny.
It's important to listen to the sounds of appliances as they operate, and as you use or maintain them!
That way you will know when things just don't seem right.
I listen to lots of disposals!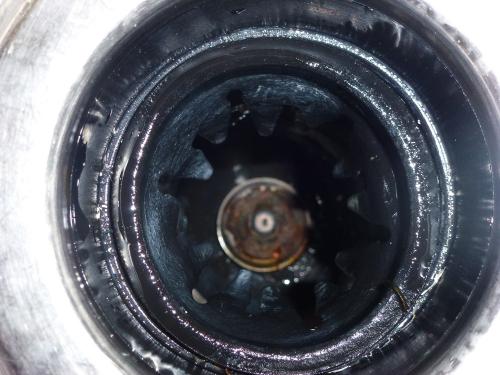 Turning this one on it did not have that clinking, grind sound I am so familiar with.
It sounded more like a jet engine, with a high-spinning whir, but none of the familiar clinking of the blades turning in an empty disposal.
And looking inside I could see why.
It was an old disposal and seriously rusty.

AND THE BLADES WERE GONE!
I don't know that I've ever seen that, and I have peeked into lots and lots of disposals!
Here are some DON'TS when operating disposals.
DON'T put this into your disposal:
Large items - if you have large food chunks you should cut them up a bit or put them in the trash can

Hard items, like bones.  You mean chicken wings don't sharpen the disposal impeller blades?  NO!

Grease

Coffee grinds

Starchy stuff, which will further swell and can clog the pipes

Stringy vegetables like celery and rhubarb

Fruit and vegetable skins (except citrus)

Bleach, which will ruin the seals and can splatter back into your face

Upopped popcorn kernels!

Common sense things, like coins, metal screws, plastic bottle caps, plastic cooking wrap or sandwich bags (I've seen all this!)

Rags, paper towels or paper

Your hand - UNLESS YOU ARE CERTAIN THE UNIT CANNOT COME ON!
Is it possible to sharpen the disposal impeller blades?
YES!
With ice.  Lots of ice.  And do it a couple of times a month.  Run cold water at the same time as the unit is grinding up the ice.
Grinding this ice will do something more.  Ice will harden any greasy deposits inside the unit and that will help to wash them away.
Is it possible to clean the disposal and get rid of odors?
YES!
Grinding lemon and other citrus peels will help a lot!  And their oils linger to help eliminate smells.  But don't put in large amounts at one time - they can and will clog the drain line!
Also, baking soda and white vinegar - 5 tablespoons of each.  Let it bubble up and sit for a while, preferably overnight.
Also, Borax and water.  Again, 5 tablespoons of each, letting it also do its magic and sit overnight.
I assure you that home inspector's disposals smell just as bad as yours.  This home inspector sharpens and then deodoraizes his disposal monthly.  He also has a big one - 3/4 horsepower, purchased on sale for less than $100 and he never looked back.
My Recommendation:  be smart!  Be careful what you put down the disposal?  If it gets stuck it can be loosened from below with an Allen wrench (disposals come now with a special wrench) or from above with a broom handle stuck down inside and turned clockwise.  Disposals aren't magic!  But treated well a disposal can last a good while, even 10 years or more.