The Marina Del Rey, CA Condominium Market Trends Report is published.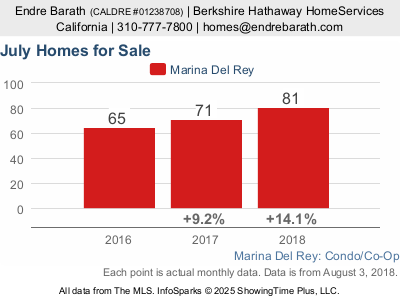 As you can see inventory has increased and this of course has all the buyers excited. Ironically many people were complaining that inventory was scares now they are worried that this is an indication of the market changing.
Now if you had views like this do you need to worry? My answer is no, just enjoy living here... now let's look at how the sales numbers turned out. BTW I took this picture from Killer Cafe' today a fantastic laid back Marina Del Rey Restaurant that is open would you believe it 24/7?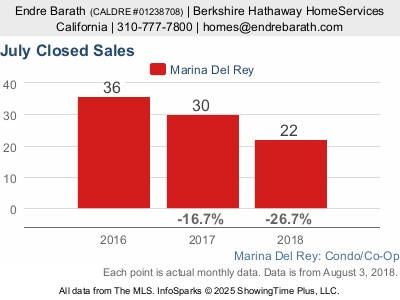 Fewer Sales, have take place compared to month over month if you look at the previous two years. Seeing these numbers I suspect the Days on Market has increased as well.
Realistically this is not surprising, but do not let the media scare you if they quote a 58.8% increase the reality is when sales are under 30 days that is still a very fast Real Estate Market. Do not have short term memory, just because before there were 12 -15 offers on the Condominiums in Marina Del Rey, CA I would suspect the end result is the same if there are only 3-4 offers on the same property. Clearly it is still a sellers market.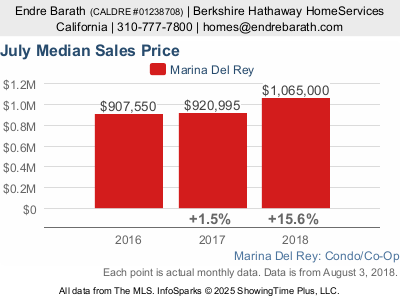 One of the main reasons properties are staying on the market a little longer is because buyers need to come to terms with the fact that prices are still continuously increasing. That is a bitter pill to swallow at times.
Never the less when you see the views from virtually every Condominium in Marina Del Rey, CA you understand the reason for such a high demand as well as high price points.
Now, if you are looking for a knowledgeable, focused and goal-oriented Realtor in the Beverly Hills area who will help you achieve your Real Estate goals, please reach out to me directly!
If you are looking for a pet friendly Beverly Hills Realtor who can handle and sell the most difficult properties that no one else could, please reach out to me directly!! If you are considering buying or selling a home, a luxury home, luxury investment real estate, luxury vacation homes, or luxury beach properties in Southern California, Los Angeles, Century City, Westwood, West Hollywood, Beverly Hills, Marina Del Rey, Venice or Malibu, feel free to contact me at 310.486.1002 (m) or homes@endrebarath.com or visit one of my websites at https://www.endrebarath.com  I contribute a portion of my commission to local animal rescue organizations.