The Marina Del Rey, CA Condominium Market Report is published...
The biggest attraction to Marina Del Rey for buyers and renters is the close proximity to the Pacific Ocean as well as Santa Monica and Beverly Hills to name a few. All reachable and are less then ten miles from Marina Del Rey. Needless to say another great benefit is to be three miles to Los Angeles International Airport aka LAX.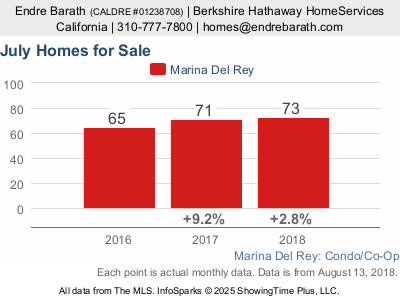 As you can see there is still a very tight inventory for potential buyers of Condominiums in Marina Del Rey.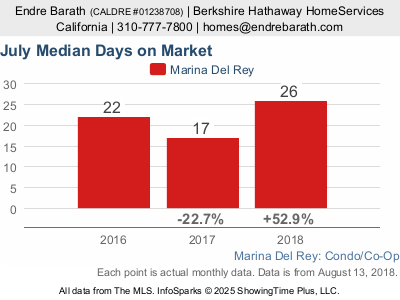 Even though the days on market have increased, do not be fooled it is still very much a sellers market.  The only benefit buyers can see is that they have an opportunity to think over what they plan on offering for the property, instead of the standard "give me your best and final". If this trend continues we might be heading to a balanced market, but we are not there yet!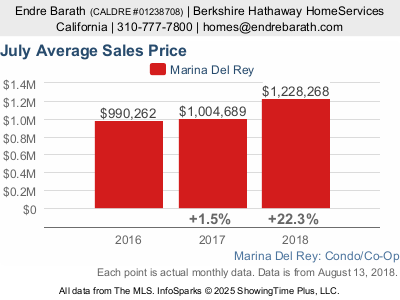 If you had any doubts that it is not a seller's market just look at the price comparisons. Keep in mind there are still many buyers who want to have the beach as their back yard. 
So if you are considering buying or selling a Marina Del Rey, CA Condominium please reach out to me directly!
Now, if you are looking for a knowledgeable, focused and goal-oriented Realtor in the Beverly Hills area who will help you achieve your Real Estate goals, please reach out to me directly!
If you are looking for a pet friendly Beverly Hills Realtor who can handle and sell the most difficult properties that no one else could, please reach out to me directly!! If you are considering buying or selling a home, a luxury home, luxury investment real estate, luxury vacation homes, or luxury beach properties in Southern California, Los Angeles, Century City, Westwood, West Hollywood, Beverly Hills, Marina Del Rey, Venice or Malibu, feel free to contact me at 310.486.1002 (m) or homes@endrebarath.com or visit one of my websites at https://www.endrebarath.com  I contribute a portion of my commission to local animal rescue organizations.