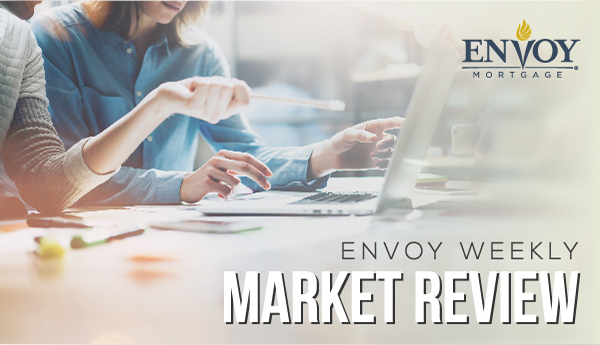 08-23-2018
 

SELLING SHIFT?

Approximately 14% of homes for sale underwent price reductions in June and Zillow Senior Economist Aaron Terrazas says though the majority of reductions occurred in the upper-tier price ranges, it could be an early indication of an overall shift. "The housing market has tilted sharply in favor of sellers over the past two years, but there are very early signs that the winds may be starting to shift ever-so-slightly. It's far too soon to call this a buyer's market, but these data indicate the frenetic pace of the housing market over the past few years may be starting to return toward a more normal trend."
 

RATES RECEDE

Mortgage interest rates took a step back in the week ending August 16 according to the Freddie Mac Primary Mortgage Market Survey. Though rates trended slightly downward, they're still up 0.64% year-over-year.
 

SETTLEMENT SETTLED

The Office of Mortgage Settlement Oversight - put in place to manage the massive mortgage servicing settlement between the U.S. government, 49 states and some of the nation's largest banks - is set to be dissolved by the end of this year. The $25 billion dollar settlement stemmed from the infamous "robo-signing" scandal, improper evictions, foreclosure procedures and other abuses that contributed to the housing crisis and mortgage meltdown of the late 00s. All of the involved mortgage servicers have met their obligations, officially ending "The National Mortgage Settlement."
 

STORM STONES

In their latest Loan Performance Insights report, CoreLogic is warning that this year's wildfires could cause mortgage delinquency rates similar to those that followed last year's devastating hurricanes. While property damage is certainly a concern, people in disaster-prone areas should heed the warnings carved into stones along the Japanese coast documented to be 600 years old: "Choose life over your possessions and valuables." Japan's "tsunami stones" bear various warnings, records and memorials.
Sources: Zillow, Freddie Mac, U.S. Department of Justice, CoreLogic
All applications are subject to credit approval. Program terms and conditions are subject to change without notice. Some products may not be available in all states. Other restrictions and limitations may apply. This is not a commitment to lend. Envoy Mortgage Ltd. #6666, 10496 Katy Freeway, Suite 250, Houston, TX 77043, 877-232-2461 | AR Banker/Broker/Servicer License #103315; AZ Mortgage Banker License – #0908096; CA Licensed by the Department of Business Oversight under the California Residential Mortgage Lending Act License #4130597; CO Envoy Mortgage, Ltd., 877-232-2461, Mortgage Company Registration #6666; DE Licensed by the Delaware State Bank Commissioner Licensed Lender Licensee #011264; GA Envoy Mortgage , LTD (LP) Georgia Residential Mortgage Licensee - Mortgage Lender License/Registration License #23619; IL Illinois Residential Mortgage Licensee License #MB.6759338; MA Mortgage Lender Licensee – License #MC6666 and MA Mortgage Broker Licensee – License #MC6666; MS Mortgage Lender License # 6666; NH Mortgage Banker License - Envoy Mortgage Limited Partnership – License #14552-MB; NJ Licensed by the N.J. Department of Banking and Insurance – Residential Mortgage Lending License NMLS #6666; NY Licensed Mortgage Banker – NYS Banking Department, License #B500979, 10496 Katy Freeway, Houston, Suite 250, Houston, TX 77043, 877-232-2461; OH Residential Mortgage Lending Act Certificate of Registration #MB.804190.000, Mortgage Broker Act Mortgage Banker Exemption #MBMB.850025.000 and General Loan Law Certificate of Registration #SM.501928.000; OR Mortgage Lending Licensee #ML-3933; RI - Rhode Island Licensed Lender – License # 20092627LL and Rhode Island Licensed Loan Broker – License # 20122861LB; TX Mortgage Banker Registration- NMLS #6666; VA Virginia NMLS ID#6666 (www.nmlsconsumeraccess.org) – Lender License and Broker License # MC3021; WA Envoy Mortgage Ltd d/b/a Envoy Mortgage, L.P.- WA Consumer Loan Company License # CL-6666 – http://nmlsconsumeraccess.org | Other authorized trade names: Envoy Mortgage LP; Envoy Mortgage of Wisconsin; Envoy Mortgage, A Limited Partnership; Envoy Mortgage, L.P.; Envoy Mortgage, Limited Partnership; Envoy Mortgage, LP; Envoy Mortgage, LTD Limited Partnership; ENVOY MORTGAGE, LTD, LP (USED IN VA BY: ENVOY MORTGAGE, LTD); Envoy Mortgage, LTD. (LP); Envoy Mortgage, LTD.; Team Get It Done Licensed by the Department of Business Oversight under the California Residential Mortgage Lending Act License #413 0597Illinois Residential Mortgage Licensee – License #MB.6759338